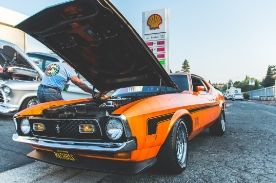 We rely on our vehicles to run properly in order to go to work, shop, or live our lives. As the number of vehicles in use continues to rise, skilled mechanics will be vital to maintain and repair them. If you're interested in starting a rewarding career as an auto repair technician, preparing to take and pass your ASE certification exams can help you take the next steps toward your goal. But what is ASE certification and why does it matter?
What is an ASE certification?
Automotive Service Excellence, or ASE Certification, ensures that mechanics are fully trained and meet industry standards of excellence and skill. Founded in 1972, the National Institute for Automotive Service Excellence is a non-profit organization dedicated to improving the quality of vehicle repair and service by testing and certifying automotive professionals. ASE offers 40 plus exams that focus on skills ranging from car and light truck repair to collision repair and more.
Whether you're interested in strengthening your repair skills or understanding different aspects of automotive and truck repair, earning an ASE certification can help you stand out from other mechanics.
How to become ASE certified
ASE certification exams must be taken on a computer at a testing center near you. Certification exams are not available to take online, but you can complete your practice exams at home to prepare before your scheduled test. However, not just anyone can register to take the certification exams. There are a few prerequisites you have to meet first. These include
Valid work experience. To qualify for ASE certification, testers need to show proof of at least two years of work in the field. The amount of experience needed can vary based on which certification tests you decide to take.

Valid training or education. If you do not have two years of work experience as a mechanic, ASE will accept approved training courses as part of the work experience requirement. When registering to take your exams, you'll submit a work experience form along with transcripts or completion certificates for training programs which can be credited toward the hours of hands-on work. However, training cannot cover the full two year requirement; testers will have to have some work experience.

Test registration. Since the exams must be taken at an authorized testing site, registering and setting up a testing appointment is required. You'll also have to pay for the test or tests you want to take.
If you don't have work experience under your belt, you can still take the exams—however, you'll not be considered "certified" until you meet the experience requirement. Additionally, mechanics need to recertify every five years to maintain their credential.
Why does certification matter for auto mechanics?
Certification offers tangible proof that you have the skills and knowledge needed to be a successful mechanic or service technician. While certification isn't necessarily a requirement to secure a job, it can offer peace of mind to shop owners and customers—and make you more marketable in the field. Since work experience is a prerequisite to taking the ASE exams, most employers will hire mechanics in entry-level positions with the understanding that they will work towards certification.
Besides being required by most employers, earning ASE certification often comes with an increase in pay.
Prepare for certification on your schedule
ASE certification exams are written to be challenging, so preparing for the tests ahead of time can help you increase your chances of passing. While education isn't required to sit for the exams, the more training, education, and experience you have, the more likely you are to do well. Penn Foster's online Auto Repair Technician Career Diploma can give you the foundational knowledge to help you prepare to take the next steps in your mechanic career, on your schedule. Even better, graduates of the program receive two vouchers toward ASE practice tests so you can feel confident in your knowledge before registering and sitting for the certification exam. To find out more about our online program or to enroll, reach out to our expert Admissions Specialists today at 1-888-427-6500.