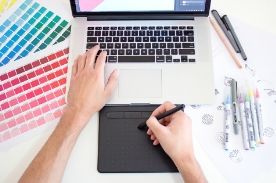 Graphic designers combine art and technology to create images for a variety of uses, from compelling website images, to print ads in magazines. Design is a critical component to marketing products, services, and creating a brand in almost every industry, so skilled graphic artists can find work in a number of workplaces. If you've been thinking about a career in graphic design, here's what you should know.
What skills do graphic designers need to have?
Before training and education, there are some skills that can help you determine whether or not a career in graphic design is the right fit for you. Successful designers often have skills like
Analytical skills. Graphic designers need to be able to evaluate their work on a regular basis to determine whether or not the product meets the expectations of the client or the task at hand. Being analytical can allow you to look at your work in an unbiased manner, helping you determine what changes you can make to improve it.

Artistic ability. Graphic designers are artists, though they're art is more often than not created digitally. While you don't need to be an accomplished visual artist to become a designer, having some sense of creativity and artistic ability can help you pick up on the skills needed to be successful much faster.

Computer skills. Most, if not all, of your work as a graphic designer is done digitally through different software and applications. Being comfortable with computers and technology is essential to easing into becoming a successful designer.

Time management skills. As a graphic designer, whether you work for yourself and do freelance jobs or you work for a company, you'll be required to meet deadlines for projects. Having developed time management skills can allow you to stay on track and be productive in your role.
What do graphic designers do?
Graphic designers create images, logos, posters, website layouts, and more for their company or for clients. Using different creative software found in the Adobe Creative Cloud, such as Photoshop, InDesign, and Illustrator, designers will imagine and create materials for marketing, communication, and more.
Typically, graphic designers will be responsible for day to day tasks like
Meeting with clients or the art director to determine the scope of a project
Using digital illustration, photo editing software, and layout software to create designs
Creating visual elements such as logos, original images, and illustrations to help deliver a message
Designing layouts, including selection of colors, images, and typefaces
Presenting design concepts to clients or art directors
Incorporating changes recommended by clients or art directors into final designs
Reviewing designs for errors before printing or publishing them
Depending on where you work as a designer, you may also find yourself working on more "experimental" projects or designs in libraries, museums, and retail spaces.
Why become a graphic designer?
Graphic design combines creativity and technology, allowing you to be an artist in a modern, ever changing environment. Besides doing something you're passionate about, graphic design can be a great career for several reasons.
First, the average salary for an entry-level graphic design was $52,110 in 2019, making it a financially rewarding job! Second, graphic designers are needed in almost every kind of industry, so you'll have a variety of workplaces you can apply to. Designers are needed in fields like education, technology, finance, marketing, and more! Becoming a graphic designer also allows you to earn extra money as a freelancer, or even begin a full-time career as a freelance designer.
How to become a graphic designer with Penn Foster
Becoming a graphic designer involves education and training. Most designers pursue a degree that covers the foundational skills and knowledge that they need to be a competitive applicant for jobs in the field. In a design degree program, you'll cover classes about art, color theory, and using industry preferred software to create designs.
With Penn Foster College's online, self-paced Graphic Design Associate's Degree, you can learn and grow your skills as a designer on your schedule, from home! To get started or find out more about online graphic design classes, reach out to our expert Admissions team today at 1-888-427-6500.