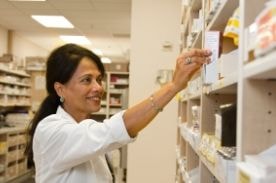 If you're interested in becoming a pharmacy technician, you want to make sure the training and education you receive can help you prepare to stand out in the field and sit for certification exams. Accreditation ensures that what you're learning meets industry standards. Here's what you should know about Penn Foster's Pharmacy Technician program accreditation.
What is ASHP/ACPE accreditation?
The American Society of Health-System Pharmacists (ASHP)/Accreditation Council for Pharmacy Education (ACPE) accreditation credential ensures that programs meet or exceed a nationally recognized standard of excellence. As skilled pharmacy technicians become more in demand, with the Bureau of Labor Statistics predicting a 7% increase in jobs in the field over the next ten years, it's more important than ever to provide quality training for the safety of the public and technicians alike.
ASHP has accredited pharmacy technician programs since 1982 and ACPE has been doing the same for pharmacist training since 1932. The groups began a collaboration to ensure that all working in the field - whether technician or pharmacist - are prepared to meet industry standards and offer quality care to customers and patients.
What does ASHP/ACPE look for in Pharmacy Technician programs?
To earn accreditation from ASHP, technician training programs need to meet established standards. When considering a candidate for this credential, they look at things like
The administration and licensing of the school. The program should have accreditation through applicable national or regional organizations.

The program faculty. Program directors, instructors, and externship coordinators must meet the standards for education, experience, and credentialing in order to provide the most complete knowledge to students.

The education and training program. Classes should prepare students to practice in an entry-level pharmacy technician role in a variety of settings.
They also consider things like the enrollment process, the path to graduation, and more.
Why is this accreditation important?
More and more states are moving to require industry-specific accreditation for vital roles like pharmacy technicians. While requirements vary state to state, graduation from a recognized training program can be important to employers when hiring new technicians. Besides having the backing of national agencies, employers can be confident that students graduating from ASHP/ACPE accredited programs have the foundational knowledge to be an asset to the business.
If you aren't sure whether or not your state requires you to graduate from a specific pharmacy technician program, you can check out the specifics on the National Association of Boards of Pharmacy website.
Penn Foster's Pharmacy Technician Professional program earned the ASHP/ACPE accreditation.
Our flexible, online Pharmacy Technician Professional Diploma program has officially moved from candidate status and earned the ASHP/ACPE accreditation. This means that your courses and the knowledge that you gain throughout your studies and externship are nationally recognized, ensuring that what you learn meets industry standards and can prepare you to take the next step toward a career as a pharmacy technician. If you're considering starting a new career as a pharmacy technician, reach out to our expert Admissions Specialist to get started today at 1-888-427-6500.