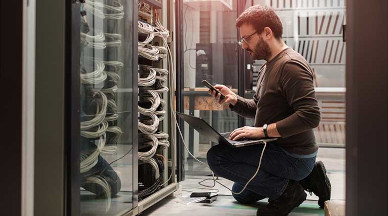 Information technology (IT) is one of the fastest-growing fields and it's projected that there will be over 667,600 new jobs in the industry by 2030. As technology continues to advance at a break-neck speed, skilled IT professionals will be in more demand than ever. That means there's no better time than now to take the first steps toward training for an entry-level IT job. Here are four reasons to become an IT support specialist today.
1. IT support is an in-demand career
In a world where technology is rapidly advancing and adapting, nearly every business needs skilled IT support specialists to ensure telephones, computers, and websites are in working order. With the Bureau of Labor Statistics expecting a 13% increase in jobs,¹ there will be plenty of entry-level opportunities to choose from.
2. Find IT work in a variety of settings
Trained IT staff are essential for any business that relies on computers, internet, and digital technology. As an IT support specialist, you'll be able to apply to open positions at large and small businesses, from call centers to corporate headquarters. You can also find an IT job in a variety of industries from manufacturing to hospitality.
3. Qualify for a variety of IT jobs
There are a variety of essential positions open to trained IT specialists, so you'll have the opportunity to choose the entry-level job title that best fits your career goals. Some of these include:
Help desk technician/analyst. Help desk techs provide technical support and troubleshooting services to end-users who need assistance with their computer hardware or software.
IT support specialist/technician. This role provides assistance to computer users by answering questions, resolving technical problems and maintaining a company's network, software and computer equipment. They are also called desktop support technicians or computer support specialists.
Service desk analyst. Service desk analysts give advice via telephone, website or email to computer users who need help solving their technical problems. They respond to user inquiries, assess problems and issues with IT equipment and applications, and help resolve these issues for users.
4. IT support specialists have a competitive starting salary
While starting salaries for any job can vary based on where you live, your experience, and the company you work for, IT support specialists generally have healthy starting pay for entry-level work. On average, those in the field earned $55,510 per year in 2020.
How to become an IT support specialist
Becoming an IT support specialist often starts with having your high school diploma. From there, you'd pursue industry-specific training. While in the past employers may have required a two or four-year degree to hire you for an information technology job, more and more businesses are moving toward hiring those who have specific certification over college credentials. Pursuing a certificate or diploma in information technology offers a shorter, focused curriculum that allows you to develop the knowledge and skills that can help you prepare to be a competitive candidate for jobs.
Besides having a diploma or certificate on your resume, earning industry standard CompTIA A+ certification means you understand cutting-edge fundamentals of computer hardware and software necessary for the field. CompTIA A+ certification is the standard for launching your career in information technology and shows employers you're prepared to handle the daily tasks of an IT role.
Penn Foster's up-to-date, online IT Support Specialist Career Diploma covers basic hardware and software skills, as well as the fundamentals of networking and cloud computing. You'll also prepare to sit for the CompTIA 1001 and 1002 exams to earn certification.
Take the first steps toward becoming an IT support specialist today
Through our flexible, affordable IT support specialist program, you'll build the knowledge and skills to help you take the next steps toward a career you love—all from home, on your schedule. To find out more about studying information technology or get started on your new career path, call to speak with our expert Admissions team today at 1-888-427-6500.
¹ Bureau of Labor Statistics, U.S. Department of Labor, Occupational Outlook Handbook, Computer Support Specialists, on the Internet here.