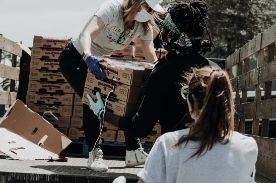 The season of giving is here, leaving many of us wondering how we can give back to others. It may sometimes feel like an overwhelming task, leaving you unsure of where to start. But giving back doesn't have to be hard. You're already equipped with the skills to make a difference to anyone from your next-door neighbor to the small business down the street.
How can you make a difference in your community?
A lot of people assume that making a difference in your community involves a big, detailed plan and a lot of time and money. While it certainly can involve those things, giving back to your community can be as easy or as complex as you'd like. A simple monetary donation helps community organizations and charitable foundations, as can volunteering a few hours each month.
If you're struggling to think of where to volunteer or donate, start with what your interests are. If you like animals, look into helping local animal shelters or rescue groups. If you are interested in the environment, volunteer to help clean up a park. If you enjoy cooking and interacting with people, volunteer your culinary skills at a soup kitchen.
Some people get a little intimidated at the thought of volunteering alone, unsure of where to go or to whom to speak. Get a friend or a group of friends together to volunteer for a few hours or pool money together to donate or purchase gift cards for those in need.
If you find yourself short on time or funds, giving back to your community can also be a simple thing you incorporate into your daily routine, like using reusable water bottles instead of single-use plastics, taking reusable bags to the grocery store, or picking up litter when out walking. Think about checking with a neighbor or elderly relative to see if they need anything on your grocery run or donate old clothes you don't wear anymore. These are simple actions that we can all afford to make, and which can make a big impact on someone's life.
Why give back?
The best and most obvious reason to give back to your community is that it means a lot to the people you're helping. You're not only providing them with goods and services they need, but you're also showing that there are people out there even — strangers — who care. Plus, when you give back, it often inspires others to do the same, increasing the good done for and throughout the community.
The good that comes from making a difference in your community doesn't just stop with those you're directly helping. Making a difference can be good for you, too. It provides you with a sense of community and accomplishment as well as making you more appreciative of what you do have.
How you can use your Penn Foster skills to make a difference
The skills and knowledge you gain from a Penn Foster education aren't limited to your personal goals and career. You can apply the skills you've learned towards giving back to your community. If you studied vet tech, perhaps you can help elderly neighbors care for pets, or you can volunteer at a local animal shelter. Put your early childhood education degree to use by offering free tutoring to local schools. Or you may try volunteering at community healthcare clinics if you've studied in the healthcare field.
Professional and office skills can also be beneficial for people in your community. Assist a small business owner in getting their business off the ground by offering help with marketing ideas. If you're looking to lend a friendly helping hand, skilled trades backgrounds are great opportunities for giving back as well. Help a neighbor, friend, or relative with plumbing problems, home repair, or car troubles.
Penn Foster's Helping Hands Award
To say our own thank you to those who dedicate their time and talents to making a difference in their communities, each year Penn Foster selects a student for the Helping Hands Award. It was founded in recognition of former student and Student Ambassador, Debra Spencer. With a background in computers and technology, she used her skills to assist older and lower income community members by fixing their computers free of charge. Her generosity didn't end there, though. Each year, she made the trek to Penn Foster's Scranton location to help staff and students with graduation ceremonies.
The Helping Hands Award honors the efforts of students who follow in her footsteps to give back and inspire others within their communities. If you'd like to apply, simply fill out the Helping Hands application, provide an explanation of how you give back, and include photos of your time volunteering. Entries close on November 24th at 11:59 p.m. The winner will be announced on Giving Tuesday. Good luck and good work!