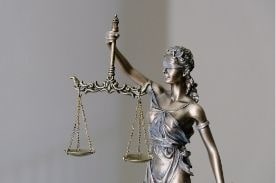 Criminal justice is a worthy field to work in, having an impact on our daily lives and society, though it can be challenging both mentally and physically. There are jobs to be found at every level, whether it be private, local, state, or federal. A degree in criminal justice can open a lot of doors to potential careers, but if you want to be successful, a well-rounded curriculum is essential to preparing you for what you face in the real world.
What to look for in a criminal justice curriculum
Criminal justice deals with law enforcement and crimes, focusing on all aspects of the legal system. It ranges from police work, including investigations and arrests, to prosecution and sentencing for those crimes, followed by corrections — which ensure the terms of a criminal's release are met. A person entering this field should have a strong sense of right and wrong, along with a desire to help the community.
But it's not enough to just be interested in entering the criminal justice field. It's tough work that's not as glamorous as we sometimes see on TV. Having a good education can make all the difference, and that happens when you take the right courses. For instance, it's important to learn the basics of police work and what the laws are, but it's equally important to know how laws work and why certain ones exist. Understanding people, their motivations, and experiences is also necessary for a fair criminal justice system. Ensuring your degree in criminal justice has an accredited curriculum that focuses on all levels of the judicial system and public policy helps you make sure you're equipped with the opportunity to learn the skills needed to effectively perform these important jobs.
How to study criminal justice
Penn Foster offers two accredited tracks on which you can begin your journey towards a criminal justice career.
Criminal Justice Associate Degree. With this degree in criminal justice, you will learn the basic, foundational elements of criminal justice used daily in law enforcement. The curriculum covers topics like police operations, court and correctional systems, and criminal law as well as introductions to psychology and sociology. At the end of the course, you'll have the option to further pursue your education by transferring your credits into the Criminal Justice Bachelor's Degree program or start your career as a police officer, legal assistant, or probation officer. Be sure to check with your state for the specific requirements needed for police officers, as they can vary from place to place.
Criminal Justice Bachelor's Degree. Including the basic criminal justice elements found in the associate degree track, a major in criminal justice will also have classwork in legal research and writing, speech, victimology, public policy, and diversity in addition to general education courses. These graduates will have similar job opportunities to their associate degree counterparts, as well as additional options such as forensic science technicians, but they'll have the credentials to help stand out from the crowd.
How much can I earn with a criminal justice degree?
Criminal justice offers an opportunity to contribute to your community, ensuring its safety and well-being as you maintain and defend the law. But it can also provide you with a lot of job choices with varying salary ranges; it all depends on what type of criminal justice career interests you. For instance, probation officers last year earned an average salary of $54,209, while $47,830 was the median for court bailiffs, and police officers averaged $65,170. Also known for being a field with job security, criminal justice can be a rewarding and lucrative career.
Get started in criminal justice with Penn Foster
Regardless of whether you choose to study for an associate or bachelor's criminal justice degree, Penn Foster's classes are completely online and studied at your own pace, allowing you time to complete the work when and where you choose. This can help you effectively balance studies, work, and family life. Learn more about our curriculum by calling an Admission Specialist today at 1-888-427-6500 or enroll online today.