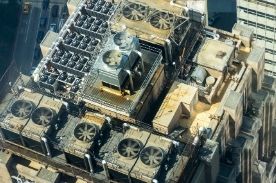 Skilled HVAC technicians can find career opportunities in a variety of industries, from manufacturing to refrigeration companies. With almost every building, from residential to commercial, needing heating and cooling to maintain a comfortable temperature, a career in HVAC can be a stable, rewarding one. To start working as an HVAC technician, most employers prefer you have a high school diploma, post-high school training through a career or technical school, certification from the Environmental Protection Agency (EPA), and many also want you to complete an apprenticeship before you're considered a full tech.
How to become an HVACR technician
To become an HVACR technician, the first thing you need on your resume is a high school diploma or equivalent. From there, you'll most often need to further your education with job-specific career training. Because the work technicians do has become even more specialized and in-depth over the years, having a foundational education can help you prepare to confidently use the skills you learn on the job. Your HVAC education should also help prepare you to sit for the EPA certification exam, which is required for all technicians who buy, handle, or work with refrigerants.
In Penn Foster's flexible, online HVACR Technician Career Diploma, you'll cover foundational skills like
The fundamentals of HVACR
Refrigeration systems
Electrical systems
Designing and installing HVAC systems
You'll also have the opportunity to prepare and sit for the EPA exam, the cost of which is covered by your program tuition!
How much do HVAC technicians make
HVACR technicians are highly skilled, so it makes sense that they're paid a decent entry-level salary. While the amount you can make as an HVAC tech can vary based on where you live, who you work for, and other factors, the average yearly salary for an HVAC technician was $50,590 in 2020!
The highest paying technicians most often work for schools and local government, while the lowest paid HVAC technicians tend to work as contractors. However, even the lowest salary is a good one, with contractors in the field earning about $49,240, according to the Bureau of Labor Statistics.
A day in the life of an HVAC tech
While some tasks can vary based on where you work, a day in the life of an HVACR technician usually starts by going to their workplace or office to begin their shift. For contractors and those working on long-term projects, the day may start at the worksite instead so that the work can begin right away. Depending on where they work, techs may work varied hours and may not have a set schedule.
Once at the workplace, an HVACR technician will begin by getting their tasks for the day or any updates from supervisors and coworkers about a project. Self-employed technicians may get started by returning customer calls or heading out to their first appointment of the day.
During the workday, technicians will either work on-site if they work for a company or school, while others may spend the day going from appointment to appointment, fixing and troubleshooting heating and cooling systems for customers.
How can you learn hands-on skills in an online class
Learning the foundational knowledge and skills that can be essential to starting an HVAC career around your own schedule sounds ideal. You don't have to travel to classes, sacrifice hours at work, or juggle family life. But how are you supposed to learn the hands-on techniques needed for HVACR work from behind a computer screen?
With Penn Foster's online HVACR Technician Training Program, you'll build the knowledge and skills needed to take the first steps toward a successful career in the field, all online. Through visual guides, interactive animations, and demonstration videos, you'll be able to learn, understand, and apply the skills you're studying—right from home! Combined with exams after each lesson to test your knowledge, the engaging and up-to-date material can help you build your HVAC career confidence.
Take the next steps toward a hands-on career today
Not only can a career in HVAC offer stability, it can pay well. The average salary for trained and licensed HVAC technicians was $48,730 in 2019! If you're ready to take the next steps toward becoming an HVAC technician, or you want to learn more about how you can train for a hands-on career online, reach out to our expert Admissions Specialists at 1-888-427-6500.