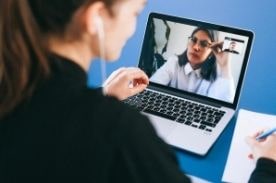 A lot of things have changed since the start of the pandemic, including job interviews. Whether you're applying for an in-person position or a work-from-home job, most companies and hiring managers are holding interviews through video chats. It's comforting to be in your own home, however, that fact doesn't necessarily make you less anxious. You want to ace this interview, get the job, and start working ASAP! Just like traditional interviews though, there are a few tips to consider to help you have the most successful meeting with a potential boss possible. Here's five things to keep in mind when you're preparing for your next remote interview.
How do online job interviews work?
Like traditional interviews, online interviews are scheduled meetings with a potential new boss or human resources manager. You'll cover some standard interview questions, talk about your experience and why you want the job, as well as ask any questions about the company. The biggest difference is that you'll be doing it through your computer or smart phone. While that remote aspect can feel like a more comfortable situation, it's still important to treat it like a "real" interview.
How to prepare for an online interview
You want to make sure you're super prepared for your online interview so you don't run into any glitches or problems that can make you late or seem like you're not invested in the opportunity. When preparing for the interview, make sure
You know which online meeting platform you're expected to use. Is it Google Meet? Microsoft Teams? Facetime? Zoom? When the interview is scheduled, the person you spoke with should send an invitation to the appropriate meeting service, but if you don't see it, make sure to ask.
You download any apps, if necessary. If the interview is taking place on a platform or service you don't already have, make sure to sign up for, or download it so you don't have to worry about it on the day of your meeting. Login in advance so you know you can easily get into your meeting!
You get familiar with the meeting service you're using. This is especially true if you've never used it before. Click around the app or website to make sure you know how the basics work, like giving the site access to your camera and microphone.
That your technology is in working order. Having your computer shut down during an important interview can be embarrassing. Make sure your computer, tablet, or device is in good shape and has room to stream video.
Tips to crush your job interview online
After you've made sure you know which video service you're using, preparing for your online interview can be pretty similar to preparing for interviews in person. Before the day of your meeting, follow these tips to crush your job interview and make the best virtual impression possible!
Set up in a quiet, clutter-free space. Your focus should be completely on your interview, so distractions can cause you to not pay as much attention as you should. If you have a home office, perfect! If not, a quiet kitchen can make a good interview setting. Make sure your background is simple and free of any clutter. If you like, you can check what background options your meeting platform has.
Tell your family or roommates about your interview. Another distraction for you and your interviewer? Family or roommates walking back and forth behind you or having conversations. Let those you live with know about the interview, what time it's taking place, and where you'll be set up so they can avoid the area.
Do your research. While you may be interviewing from home, you should still do research about the company you're working for before the interview. What are their values? Their mission? Use this information to inform what you'll talk about it and what sort of questions you want to ask the interviewer.
Dress your best. You're at home, so it's tempting to wear your casual everyday clothes. But even though your interview is happening online, you should still dress your best! Besides making a good impression, dressing for an interview can help you boost your confidence and mentally prepare for the best interview possible.
Pay attention to your body language. You want to appear confident and excited about this opportunity. Your body language can say a lot about who you are, even virtually, so make sure you maintain eye contact, adjust your posture, and avoid fidgeting.
Add relevant training and education to your resume with Penn Foster
If you're considering a new career or want to increase your chances of landing the job you want, strengthening your resume with relevant education and training can help. With Penn Foster's online programs, from career to college, you can learn new skills and knowledge from home, on your schedule. Reach out to our Admissions Team today at 1-888-427-6500 to find the program that's right for your career goals.