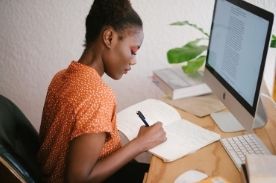 Writing great assignments can be intimidating, but it doesn't have to be! Whether you're writing an essay for a high school course or putting together a research paper for a college class, you can make sure you submit the best piece possible with a little help. Here's how you can make the most of Penn Foster resources to write an amazing essay.
What writing resources are available to students?
In a self-paced, online program, you might assume that you'd have to figure things out on your own. You don't! In addition to instructors and support staff you can connect with by phone or email, you have several writing resources available 24/7. Before digging into your first paper, get familiar with the help and support pages you have access to. These include
The Writer's Block. The Writer's Block is an in-depth resource for Penn Foster students that covers topics like how to do proper research, how to cite your sources, and how to write a solid outline before starting your essay.
High School Writing Resources. The High School Writing Resource page is dedicated to high school English and writing. Here, you can meet your instructors, check out webinars for your English classes, and find tips on submitting your writing assignments.
College Writing Resources. Here, you can access resources specific to your course, learn more about writing and effective research, and get a deeper understanding of how to cite your papers to avoid plagiarism.
Tips for writing a great essay
Even if you're confident in your writing skills, it doesn't hurt to use every resource available to you, especially if you haven't had to write a paper in a while. When you're getting started with your essay, follow these steps to make sure you stay organized and on topic.
Understand what your assignment is asking for. What kind of paper do you have to write? Make sure you have a deep understanding of the instructions. Fully understanding what you need to do is the first step to writing a great essay!
Outline your paper. Outlines are essential to the structure of your paper and can help you stay on track when you're writing. An outline can include your introduction, the body of your essay where you make your main points, and your conclusion.
Write a first draft. Writing a great essay takes at least one or two drafts. When writing the first draft, focus on making sure you include all the necessary information to make your points.
Proofread. No matter how strong of a writer you are, there will be typos and the occasional grammar mistake in your paper. That's what proofreading is for. If you can, take a few hours off after writing your first draft before you dive into proofreading it. That time can give you some distance from what you wrote so you can look it over with fresh eyes.
Edit your final draft. Once you've proofread your paper and fixed any mistakes, you'll want to go through at least one more time to make sure your edits are complete. It can help to read your paper aloud to see if any sentences feel awkward or don't make sense. Then, you can submit your essay for grading.
After you've submitted your paper, it can take some time for your instructor to grade it and send you feedback. Even if you got a good grade, it's worth looking at any notes they left so you can understand what you can improve next time, or what you do really well. If your paper was returned to you without being graded, don't get anxious! You may have missed something that your instructor wants you to address before they give you a grade. Make sure to read their feedback and reach out with any questions as you work to make revisions.
Write and submit papers on your schedule
One of the best things about a self-paced, online program is that you can take your time to make sure you've written the best possible essay. You can go through each step in the process and write several drafts without the stress of a due date. For more information on writing assignments and how to complete them, reach out to your instructors and student services at 1-888-427-1000!