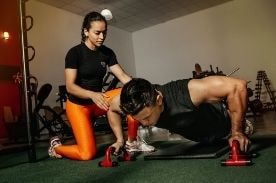 Few things in life are better than having a job you truly love. To make this happen, people often turn to their hobbies. The U.S. Bureau of Labor Statistics even states it's a great way to find a new career, since doing something that you love can create a sense of purpose. If you're someone who loves fitness and nutrition, you might want to consider turning that passion into a career. Keep reading to find out how Penn Foster can help give you the right skills and information to reach your goal.
Why choose a career in fitness and nutrition?
A career in fitness and nutrition can be a rewarding, stable job. In recent years, there have been strong pushes from businesses, insurance companies, and the government for people to be more mindful of their health; often offering incentives to join gyms and health clubs. This means that as long as there are people who want to be healthy, there will be a need for experts in the field filling roles such as trainers, instructors, and nutrition advisors.
In addition to job security, fitness and nutrition jobs can help improve your own well-being. The rewards go further, too. Working in a health, fitness, or nutrition career means you get to help others make positive, impactful changes on their own lives. When a client reaches their goals, you get to see the actual results of the hard work you've both put in.
What fitness and nutrition courses does Penn Foster offer?
No matter how passionate you are about health and fitness, you still need skills and knowledge to pursue a career in this field. You'll need to be well-versed in a variety of subjects, and Penn Foster offers three different options to help you get on track to learning what you need.
Fitness and Nutrition Certificate. If you're interested in helping clients learn healthy meal planning, build muscle, increase flexibility, and lose weight, our Fitness and Nutrition Certificate is a great place to start. Throughout the seven course program, you'll study anatomy and physiology, medical terminology, strength conditioning, nutrition, and stress management to help you learn to create well-rounded routines for the individuals with whom you'll work.


Sports Nutrition Certificate. If you're looking for a more specialized field, a Sports Nutrition Certificate can help you gain the credentials to work with athletes of varying ages. Centering on nutritional fundamentals, your coursework can help you learn to evaluate and structure regular diets for best exercise performance. This is accomplished through lessons on calories and nutrients, supplements and nutrition for training, and body composition. It's also approved by the National Council on Strength and Fitness (NCSF) for seven continuing education units and the American Council on Exercise (ACE) for 1.7 continuing education credits, so you can apply your course towards recertification if you're already working as a personal trainer.


Certified Personal Trainer Career Diploma. If you're just starting out in your fitness career and are interested in becoming a personal trainer, Penn Foster's Certified Personal Trainer Career Diploma can help you prepare for earning industry-desired credentials. In addition to courses in fitness anatomy and physiology, injury prevention, nutrition, and personalizing fitness programs, at the end of the course you will have the opportunity to register for the National Council on Strength and Fitness (NCSF) certification exam. To aid you in your studies, you'll receive a home-study package with e-learning access, and an exam voucher. After successfully completing the Penn Foster program and passing the NCSF exam, you'll be a certified personal trainer!
Why choose Penn Foster?
Even though the courses may seem like a lot at first glance, Penn Foster's mission is to provide quality, affordable learning on your own terms. In addition to interest-free monthly payment plans, each program is self-paced and completely online so you can plan to work on your coursework when and where it's most convenient for you. Plus, they can be completed in under 15 months, so you can start your career sooner rather than later.
Enrich your future.
If you're ready to start sculpting your future, enroll online in a fitness and nutrition course with Penn Foster today or speak with an Admissions Specialist at 1-888-427-6500 to learn more.