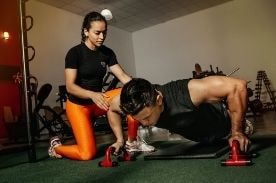 Few things in life are better than having a job you truly love. To make this happen, people often turn to their hobbies. The U.S. Bureau of Labor Statistics even states it's a great way to find a new career, since doing something that you love can create a sense of purpose. If you're someone who loves fitness and nutrition, you might want to consider turning that passion into a career. Keep reading to find out how Penn Foster can help give you the right skills and information to reach your goal.
Can you turn being fit into a career?
Yes, you can turn being fit and your love of fitness into a rewarding career! If you're passionate about fitness and have excellent people skills, it's possible to find a job in a variety of settings. These settings can include gyms – both small, locally owned gyms and larger, corporate franchises, resorts, healthcare facilities, and more!
In addition to working in a rewarding career, fitness and nutrition jobs can help improve your own well-being. The rewards go further, too. Working in a health, fitness, or nutrition career means you get to help others make positive, impactful changes on their own lives. When a client reaches their goals, you get to see the actual results of the hard work you've both put in.
What careers are available with a fitness and nutrition certificate?
There are several careers you can pursue in the fitness industry. These include
Fitness instructor. Fitness instructors lead classes and motivate their students to reach their fitness goals. They need to be familiar with cardiovascular workouts, stretching, and strength training. Depending on your fitness interests, you may also need to be familiar with popular types of exercise like Zumba or spinning. Fitness instructors have varied work schedules, so being flexible is important. Many instructors work part-time, though there are opportunities for full-time positions. Additionally, your schedule can change depending on the classes you're teaching. The average salary for fitness instructors is $22.14 per hour, but that pay can vary based on where you work and your skill level.
Personal trainer. Personal trainers work one-on-one with clients to help them meet their fitness and health goals. They also work with their clients to educate them on exercise equipment and fitness safety. After an initial consultation with a client, personal trainers will create a fitness plan to help them effectively reach whatever goals they have in mind. Personal trainers can work full-time or part-time, for a gym or fitness center, or have their own business in the field. The average salary for a skilled personal trainer is $23.16 per hour.
Health coach. Health coaches work with clients to help them create and meet their health goals. They support their clients, motivate them, and offer advice. The average salary for health coaches is $17.80 per hour.
While a certificate in fitness and nutrition can help you build the skills and knowledge that can be helpful in a fitness career, a certificate alone may not be enough for employment in the field. Generally, you'll also need experience or, depending on where you want to work, further training and education.
Is a job in fitness stable?
Fitness jobs are in demand, with the Bureau of Labor Statistics predicting a 39% increase in the number of jobs available in the field over the next decade. That means there are plenty of opportunities to work in the industry. And, since so many fitness instructors and other fitness professionals are in such demand, it's also currently a very stable career.
Can you get a job in fitness without a degree?
It's possible to get a job in fitness without a degree on your resume. However, you can't just walk into a gym one day, with no experience or knowledge about the field, and expect to get hired. To qualify for a fitness job without a degree, you'll need a passion for fitness, experience doing a variety of exercises, and depending on the gym you're applying to, certifications or certificates on your resume.
Start a career you're passionate about with Penn Foster
While a degree may not be necessary to start a career in the fitness industry, certificates and other credentials can be helpful in qualifying you for positions as you can gain knowledge you can then use to help your clients. With our online Fitness and Nutrition Certificate Program, you can build your knowledge in the field and add a credential to your resume – all from home, on your schedule!
If you're ready to start sculpting your future, enroll online in a fitness and nutrition course with Penn Foster today or speak with an Admissions Specialist at 1-888-427-6500 to learn more.