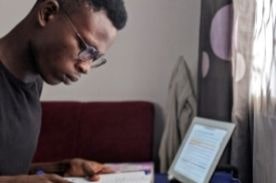 Earning a high school diploma can be more than an education milestone. A high school diploma can impact what jobs you qualify for, the opportunities you have to advance in your career, and what colleges you can attend. Whether you're a traditional-aged student who had to, or wants to, leave school or an adult learner who wants to go back, getting your diploma can open new doors and opportunities. If you're unsure about going back to school, or don't know if it's worth it, here's what you should know about how an accredited diploma can make a difference in your life and career.
How a high school diploma affects your job opportunities
While there are still some jobs that don't require a high school diploma, more and more employers are considering it important when they're looking over resumes. . It's expected that over the next few years, at least 17 million job openings will consider having a diploma a minimum requirement to qualify for open positions.
"Having a high school diploma opens a lot of doors," said Megan Bowen, Director of High School at Penn Foster, during a live broadcast about our high school program. But besides giving you more potential job opportunities, earning your high school diploma comes with other benefits including:
Learning skills you can use in real life. Students ask themselves often, "Why do I need to learn this? When will I ever use this in real life?" But you pick up different pieces of knowledge from everything you learn. "It may look as if what you're learning isn't applicable [to real life], but really everything you learn is," Bowen told us. "Every time you solve a math problem, you're using problem-solving skills." These skills can then be applied to your career. Problem-solving skills, for example, are highly sought after in employees because it means they're able to think through issues and find solutions on their own. These skills are best refined with practice, something you can get a lot of in school.
Making more money. While finding a job you love is important, it's just as vital to find a job that pays well. One great benefit of having a high school diploma is that you're likely to earn more money. In fact, those with a diploma earn 36% more on average than someone who doesn't have a diploma. That's $768 more per month, or $9,984 a year.
Building self-confidence. Finishing your high school diploma can boost your self-confidence, which can be especially important when you're searching and applying for jobs. When you're going into your job interview, or applying- when you know you have that in your back pocket- you go into potential opportunities with more self-confidence.
Is an online high school diploma right for you
You know you want to finish your diploma, but what's the best way to do it? If you're an adult learner, juggling work, family, and life with in-person classes can seem impossible. That's where an online high school like Penn Foster can help. But is earning your high school diploma online the best fit for you? Consider these questions to help you decide:
What's your schedule like? If you have a fully packed schedule most of the time, a traditional school setting or a program that comes with set start dates, exam due dates, and class times can be hard to manage. However, a self-paced, online high school program like Penn Foster's allows you to squeeze studying and tests into your busy life, making it a great option for someone who's always got something going on.
How soon do you want to graduate? As an adult learner, you may not want to return to school and take a few years to finish your classes. Or you may need to earn your diploma because you want to get promoted at work or you're hoping to change careers as soon as possible. If you're a traditional-aged learner, you may not want to get a head-start on moving onto your next step. With our flexible online classes, you can work through your classes at the speed that works with your goals – and, if you have completed some high school, you may have transfer credits which can cut down the timeframe it takes to graduate.
What's your ultimate goal? Do you want to go to college? Advance in your job or start a new one? Join the military? Your end goal can help you figure out what path is best to take to reach it. For those who want join the military, for example, earning a GED may not help them get to the branch they want to join. Penn Foster's online program, however, is an accredited diploma meaning that graduates are considered Tier 1 recruits, allowing them to have more options in the armed forces.
Open doors with Penn Foster High School
If you're ready to take the next steps toward new job opportunities and earn your diploma, Penn Foster High School may be the perfect fit for you! With flexible start dates and classes and affordable tuition, there's no better time than now to get started. Reach out to our expert admissions team at 1-888-427-6500 to take the first step toward reaching your goals today!