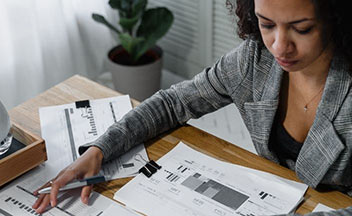 Payroll clerks are the backbone of the daily operations of human resources and accounting. As the unsung heroes of businesses, payroll clerks ensure we're all paid accurately and on schedule. If you're interested in playing a vital role in business operations, check out what you'll need to know to start your payroll career.
What does a payroll clerk do?
Payroll clerks are the individuals responsible for making sure our paychecks are issued on time and accurately. This, however, isn't a simple or straightforward task. It involves gathering and compiling time records and salary information for all employees, incorporating deductions for each pay period, and reviewing these various records for accuracy.
Their duties don't stop there, though. Payroll clerks' responsibilities also include updating records to reflect changes in employee information like title changes, benefit changes, and exemptions. They calculate leave time, federal, state, and local taxes, and employer's payments for unemployment and workers' compensation insurance. They process and issue employee W-2 forms and serve as the point-person for any payroll questions or mistakes.
How do I become a payroll clerk?
If you want to become a payroll clerk, you'll need to have a love of numbers and strong organizational skills. Some professional skills are needed, too. While the only formal education needed is a high school diploma, career training can help you gain valuable knowledge and experience, which in turn can help give you a boost when applying for competitive jobs.
Penn Foster's online Payroll Clerk Career Diploma covers the foundational information, like common deductions and how to properly maintain payroll data for IRS compliance, that you'll need in your career. The course can be completed in as little as five months, and once successfully finished, you will be eligible to sit for the National Bookkeepers Association Payroll Certification Exam, an industry-desired credential.
How much can I earn as a payroll clerk?
Earnings for payroll clerks can change from job to job, depending on the size of the business and the industry in which you work. However, the Bureau of Labor Statistics estimated that the annual median wage for payroll clerks as of last year came in at $48,290. This salary coupled with a short and affordable educational commitment can create a rewarding career option.
Train for your future
If you're ready to start training for your future, Penn Foster can help. Affordable career training is completely online and self-paced, so you can prepare for your career on your terms. To learn more about becoming a payroll clerk, call an Admissions Specialist at 1-888-427-6500 or get started by enrolling online today.