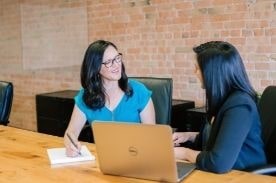 For every job out there, there are a certain set of needed skills unique to that particular position. However, there are also desirable skills needed for every job, regardless of what your career goals are. These soft skills form the foundation for effective employees who work well with others, adapt to challenges, and communicate well. In fact, these are often some of the first things potential employers look for in job applicants.
What are soft skills?
The key soft skills that most employers look for are things we all have had some experience with to varying degrees. Some of the most important include:
Personal skills. Personal skills tend to be the qualities employers most often look for, like respect and dependability. It also includes productivity and the ability to adapt to changes.
People skills. Like personal skills, people skills are important features employers look for in potential hires, since most people don't work completely independently of others. This means you must be a team player and communicate well and with respect.
Workplace skills. Workplace skills involve being able to manage your time efficiently, how to identify problems and solve them, and basic technology skills.
Some of these might seem familiar or like common sense, since you may have had to deal with these things in school, at other jobs, and in your personal relationships. However, it's important to continue to work on them. Penn Foster's Career Readiness Bootcamp can help you hone these skills to help ensure you're a desirable candidate or valued employee.
How can I benefit from the Career Readiness Bootcamp?
Whether you're an experienced worker or just starting out, it's important to make sure your skills are sharp and up-to-date. The Career Readiness Bootcamp delves into the different aspects of personal, people, and workplace skills so you can develop the tools needed to perform well in whichever career field you choose. In this short course, you'll work on things like your professionalism, communication, and how to plan and organize. Like all Penn Foster courses, it's self-paced and online, so you can study while working or completing another program. You don't have to worry about trying to "fit it in" to your busy schedule. You'll also receive a certificate verifying successful completion of the course, allowing you to show hiring managers that you're equipped with the right skills and dedicated to being a dependable employee.
Reach your goals with Penn Foster
No matter what stage of your career you're at, Penn Foster's Career Readiness Bootcamp can help you increase your marketability in a competitive workforce. If you're ready to work on your everyday skills, enroll online now or call an Admissions Specialist at 1-888-427-6500 to learn more.