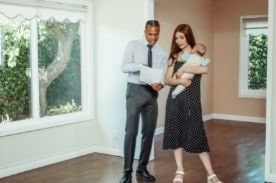 At the end of 2020, more than 42 million people in the United States rented apartments and homes. With so many people renting from management companies, the need for property managers is expected to remain steady over the next ten years, meaning there are many opportunities for someone looking to break into the field. If you're a people person with strong communication and management skills, becoming a property manager could be the perfect career for you. Here's what you need to know about the job.
What does a property manager do?
Property managers typically work for apartment and property management companies. They're responsible for a variety of day-to-day tasks including meeting with prospective renters to show them available properties, addressing maintenance requests, performing inspections to ensure the property is in good condition, collecting rent, and more. Most property managers are the main point of contact for renters or act as a go-between for renters and the property owner. In order to be successful on the job, property managers should have a number of skills including:
Strong communication skills. Property managers must be able to understand rental or leasing agreements and clearly communicate the agreements to current or prospective tenants. Additionally, as a property manager, you'll work closely with a variety of personalities so being able to effectively speak with tenants and resolve issues is a must.
Customer service skills. Property managers don't just oversee a rental property for its owner. They're also responsible for finding and approving new tenants, working closely with current tenants to collect rent or deal with concerns, and contracting repairmen to address property issues. Customer service skills can help managers effectively work with others and help solve problems.
Real estate knowledge. Property managers need to have at least a basic understanding of real estate to be effective in their job. You need to know and follow the laws and regulations for real estate in your area. This includes the legal methods for screening potential tenants, handling security deposits, terminating leases, and conducting evictions when necessary. Because property managers are responsible for understanding these laws and regulations, some states require that property managers also earn a real estate license.
Organizational skills. From leases to contracts with repairmen, a property manager deals with a lot of paperwork. Being organized is vital to ensuring that you can find the right paperwork when you need it. Additionally, property managers have a job that involves new tasks every day, so organizing your schedule is important.
How much can you make as a property manager?
The average salary for a property manager can vary based on a few factors. How much you make can depend on the company you work for, the state you live in, your work experience, and your credentials. The median salary for a property manager in 2020 was $59,660.
What certifications do you need to be a property manager?
Most property managers need, at minimum, a high school diploma. However, many employers prefer to hire applicants that have a college degree or relevant training. Property managers who work in Alaska, Delaware, Florida, Georgia, Hawaii, Illinois, Nevada, Virginia, and the District of Columbia are required to have professional credentials or licenses to get a job. Depending on the tasks you're required to do as part of a management company, you may also be required to obtain a real estate license.
For those who plan to work in states that don't require a real estate or other professional license, obtaining industry-recognized credentials can help you stand out from others when you're applying to property management jobs. Earning a credential like the Certified Property Management Certification offered by the Institute of Real Estate Management can be a great way to boost your resume!
Additionally, completing a training program like Penn Foster's online Property Management Certificate can help you prepare to build the necessary skills to become a property manager and add relevant education to your resume. Throughout the course, you'll learn about essential topics like real estate law, financial accounting, risk management, and fair housing regulations, ensuring you're ready to take the first steps toward an entry-level job as a property manager.
Build skills for the career you want with Penn Foster
If you're ready to take the next steps toward the career you want, Penn Foster can help! Enroll online and start learning today or reach out to our expert Admissions Specialists to learn more about becoming a property manager online at 1.888.427.6500.