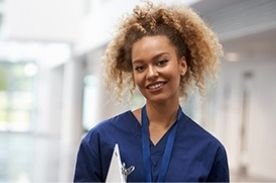 As the healthcare industry continues to be a booming field, so too is the demand for skilled medical assistants. If you know that you enjoy helping people and want to make a strong impact where you work, this could be a rewarding and exciting career path for you! Since you've come across this article, you're likely already drawn by the possibility of becoming a medical assistant but are trying to figure out how exactly to get there. Would a career diploma or an associate degree program better suit your needs to achieve both your short-term and long-term goals? Here are a couple of questions to consider when making your decision.
Do I want to receive a college degree?
Though an associate degree is not necessarily a requirement to become a medical assistant, it may lead to more opportunity for advancement or a higher salary. Overall, it might be valuable if you, and possibility a future employer, view degrees with high regard and prestige. Would achieving a degree give you a sense of pride and accomplishment? Also, are you looking for a more well-rounded education beyond the core requirements to become a medical assistant? If you have a variety of interests, general education classes may help inform your desired career path. You should also consider timing, and if you can and are willing to commit a couple of years to receive your degree, as a degree will take longer than a diploma to complete.
Do I want to become a medical assistant as quickly as possible?
On the other hand, if you're seeking a training option that will help position you for a fast-track towards a career as a medical assistant, then the career diploma may be the favorable option for you. The Medical Assistant Career Diploma can be completed in 9 months or less and provides the same core education as the degree alternative. The program also has DEAC accreditation and is recognized by many employers as a boost for your resume.
I think I know which direction to go, but where can I get more information?
Below you will find a condensed overview of the key differences between each program. This chart outlines the primary factors that set apart both programs and can help you feel more confident in the program you'd like to select.
For more detailed information on both programs, please click here to learn about the Medical Assistant Career Diploma and here to learn about the Medical Assistant Associate Degree. If you would like to speak with one of our Admissions Specialists, please call 1-888-427-6500.