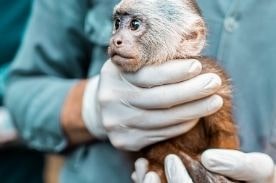 A lot has changed during the pandemic. One bright spot is that pet adoptions have increased as more people spend time at home. This has meant more new patients at veterinary clinics across the country and an increased demand for skilled veterinary technicians and technologists. If you love the idea of working with animals, taking the next steps toward becoming a veterinary technician could be the right career move for you. And, if you're already in the field, it's a perfect time to boost your credentials and prepare to take the steps to advance in your career. But what, exactly, can you do with a Veterinary Technology Bachelors of Applied Science Degree? Here's what you should know about working in the veterinary industry and how to get started.
What does the veterinary industry look like in a post-COVID-19 world?
The pandemic has changed how we interact with each other and how day-to-day work is done in almost every job. For those in the veterinary field, it's meant adjusting to a new way of seeing patients even as they're experiencing a large increase in the number of appointments at clinics. These changes won't necessarily end when the pandemic is over and can impact how the veterinary industry works going forward. Long-term changes may include
More patients coming in for wellness appointments.
Using telehealth for checkups and wellness appointments.
Credentialed veterinary technicians handling more responsibilities.
These changes mean that many practices may need to hire more veterinary assistants and technicians than ever before to handle the number of patients they see each day.
Why now may be the best time to boost your veterinary credentials
The veterinary industry is growing quickly, with the Bureau of Labor Statistics projecting a 16% increase in the number of available jobs for veterinary technicians by 2029. That means that over 130,000 positions are expected to open up for qualified vet techs! Whether you're already working in the field and want to pursue specialized positions or you're starting a new career, furthering your education can help you prepare to stand out.
If you're new to the veterinary field, a great starting career can be becoming a veterinary technician. Veterinary technicians play an important role helping the veterinarian examine and treat patients, as well as working with other office staff such as veterinary assistants and practice managers. While not all states currently require veterinary technicians to be credentialed to work in the field, many do, so a formal education can make a difference. With a program like Penn Foster's Veterinary Technician Associate Degree, you'll cover the foundational knowledge and skills to help prepare you to be confident in your role.
From there, you'll take the VTNE, a national exam. When you pass, you'll officially be a credentialed veterinary technician! But once you're credentialed and working in a vet practice, what happens next in your career? For many, the next step is learning more and advancing as a tech, or even moving into a more specialized practice.
What can you do with a bachelor's degree in veterinary technology?
In healthcare, whether human or animal, continuing education is expected. Technology and processes can change rapidly, so keeping your knowledge up to date is important – for both your patients and your career. That can be done with occasional certificate and training courses. For veterinary technicians hoping to specialize or accelerate their career, more in-depth education can be a helpful stepping stone. That's where earning a completion program like Penn Foster's online Veterinary Technologist Bachelor's Degree comes in.
Through the program, veterinary technicians who've already earned their associate degree will learn more in-depth and advanced skills, including
Preventative Healthcare
Veterinary Practice Management
Emergency and Critical Care
Advanced Animal Anesthesia
You'll also have the opportunity to explore specialties through a capstone course in your final semester. After earning your degree, you could be qualified for jobs in larger clinics, zoos, research facilities, and more.
Earning veterinary credentials
Take the next steps toward starting or advancing your career as a veterinary technician with Penn Foster's online, flexible, and AVMA-accredited Veterinary Technician and Technologist degrees. You'll develop the skills to effectively help animals while preparing to earn credentials that can strengthen your resume. Learn more about our veterinary academy by speaking with an Admissions Specialist today at 1-888-427-6500!