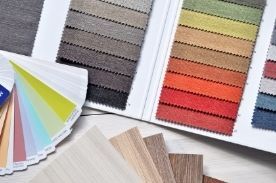 If you want to become a professional interior designer, you may have questions about what steps you need to take in order to get started. For one, diving into the professional creative industry can pose various questions about your education requirements, so your first step should be to find the right training to meet your personal and professional career goals.
What is included in an Interior Design Degree Program?
At Penn Foster, you can earn your Interior Design A.S. Degree online, at your own pace. This program is four semesters long, includes 23 courses and four proctored exams (one at the end of each semester). Although Penn Foster allows you to work entirely at your own pace, this course should take you about 16-24 months to complete, depending on how much time you have to dedicate to your studies.
The Interior Design Associate Degree program at Penn Foster is designed to help prepare you for an entry level position in the field of interior design. If you are specifically interested in getting your national interior design licensure, this program also provides 45 out of the 60 credits worth of interior design coursework needed for the National Council for Interior Design Qualification (NCIDQ) licensing exam. Although this qualification is not required in order to start working as an interior designer, if it's something you'd like to pursue, you can read more about Exam Eligibility Route 4 in order to see how Penn Foster's curriculum will prepare you to meet the full requirements.
When you dive into your Penn Foster program, you'll start with all the fundamentals like color theory, history of interior design, art appreciation and drawing basics for interior designers. Throughout your second and third semesters you'll dive a little deeper into concepts like textiles, AutoCAD, and building systems. By the end of your fourth and final semester, you'll be studying in-depth topics like professional design code and residential and commercial design concepts. When you graduate, you'll be one step further on your career path to become a professional interior designer.
Why study Interior Design?
Interior design is a great field for individuals with an interest in art, design, and decorating who are looking to channel that passion into a career.
Not only that, this field can be a well-compensated one, with the BLS's most recent report stating that the average interior design salary in the US was $56,040 per year, while some of the higher paid designers earned a reported average of $96,470. The salary you may earn can depend on where you live, your experience, and the work you get.
Why study interior design with Penn Foster?
Since this program is online and self-paced, this means that if you already have a full-time job, you will not have to give that up or rearrange your current schedule in order to go to school to pursue your Interior Design Associate Degree. You can make your own schedule- whatever works for you.
Not only that, although the course is self-paced and online, Penn Foster doesn't leave you to go it alone. As a student, you will have access to instructors who are there to provide you support along the way. To learn more about the program or get started, reach out to our Admissions Specialists at 1-888-427-6500.