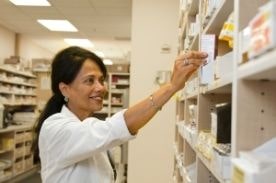 Over the years, Penn Foster has been an industry leader in bringing quality, affordable education to those looking to start or enhance their careers. Recently, there has been an increasing need for trained pharmacy technicians. The Bureau of Labor Statistics only expects this need to grow, meaning proper training is essential to ensuring the best professionals are filling positions.
Continuing our mission to be at the forefront of online education, we've recently enhanced multiple programs, including our online Pharmacy Technician Career Diploma and our online American Society of Health Pharmacists-accredited Pharmacy Technician Professional Career Diploma. The goal is to deliver the same quality education Penn Foster is known for, while enhancing the learning experience to work for an even wider range of learners.
How has Penn Foster enhanced the pharmacy tech program?
As industry leaders, Penn Foster knows it's important to stay ahead of the curve, always adapting to new technology and industry advancements. These new discoveries and changes mean our methods and models are constantly progressing. In addition to making sure our courses cover the latest information in each area, we know it's equally as important to make sure we're ahead of the game with regard to advancements in learning techniques. Penn Foster knows each student is an individual with their own unique ways of learning, so we've adapted much of the pharmacy technician courseware to make it more inclusive to various learning styles.
For example, many students learn more effectively with visual aids. Some of the changes we have applied include more videos with demonstrations and simulations, helping to reduce reading time. The new, dynamic program platforms also feature animations and live action demonstrations to help students better understand the skills needed for future jobs and how they're applied. Penn Foster's "Learn, Practice, Apply" model includes more frequent practice tests and exercises, too, so students can apply key ideas they've watched and read, giving a better understanding of what it will be like while working on the job.
How will the enhanced pharmacy technician programs affect student outcomes?
The pharmacy technician certificate programs will still feature all the same elements that have proven useful for past students, like a well-rounded curriculum that can prepare you to sit for the National Healthcareer Association's (NHA) Certification of Pharmacy Technicians (ExCPT) exam or the Pharmacy Technician Certification Board's (PTCB) Pharmacy Technician Certification Exam (PTCE) exam. Passing either of these exams will give students in-demand qualifications, which can show employers they're career ready. But the enhanced program offerings are geared toward improving student outcomes even further. The human brain processes images more efficiently than just words, which means we remember these images and scenes more easily than if we read a lot of information. The expanded learning model was developed with the idea of providing scenarios and simulations so students can experience the real-world application of the concepts they're learning, making it easier to retain the information through examples. If students are remembering the information with more ease, they'll have more confidence in their abilities, helping to prepare them for a successful career.
Enhance your future with Penn Foster
Penn Foster will continue to offer affordable pharmacy technician programs that are completely online and self-paced, so work can be completed wherever and whenever it works best for the student. Call an Admissions Specialist today at 1-888-427-6500 to learn more about our expanded courses or enroll online now.