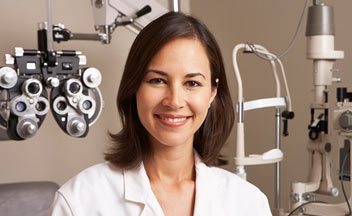 Becoming a certified optician is an ideal career path for someone who is compassionate, detail-oriented, and has a strong desire to help others. And with over 69,000 jobs available currently in the U.S., employers are seeking candidates like you who want to make a direct impact on people's quality of health.

But while you know you want to enter the medical field and become an optician, you may be unsure of how exactly to get there. Though there might not be a direct route for entering this career path, it doesn't have to be a stressful process. There are several things you should look for when considering enrolling in an optician school. Here's how you know that you've found the right option for you.
The learning model is participatory and interactive

An engaging lesson plan that isn't just one-sided, but it encourages you to put to practice what you've learned, and might eventually do as an optician, is ideal. A program with a heavy focus on interactive learning is crucial for helping prepare students for this career path because of the hands-on, customer-centric nature of the job.

Students with different learning styles will appreciate a combination of visual and demonstration-based learning, rather than doing a lot of reading-based learning. Penn Foster's optician training program includes animations, live-action demonstrations, and interactive videos to help you be successful both in the program and, most importantly, after. For example, with an interactive 3-D eyeball diagram, you can learn about the different parts of the eye in a way that you might not be able to as easily in a textbook.
Our learning model helps you learn skills you'll need to receive industry certifications

Industry-standard certifications can give you a leg up on your resume and help prove your expertise in this field, which can help position you for a career as an optician. The certification exams administered by the American Board of Opticianry (ABO) and the National Contact Lens Examiners (NCLE) are an industry requirement in many states.

It's crucial to find a training program that includes a lesson plan that directly correlates with the information you'll need to pass these certification exams. Penn Foster's program is aligned to these certifications to help make you job-ready once you graduate.
You have plenty of resources available to help you succeed

Your goals and needs when you enter into an optician training program will be different from others looking to train for that career. That's why finding a program that embraces flexibility and will allow you to complete lessons and courses at your own pace, rather than feeling the stress of hitting strict deadlines, will help ensure your success.

Despite this flexibility allowing you to independently determine your pace, you also want to feel like you're being encouraged, even online. To provide support as you go, you'll want to have several resources available to you whether you get stuck or simply need feedback. From faculty, to a dynamic student portal, to a virtual community, these are all necessary benefits that help increase your chances of success in a training program. Penn Foster offers flexibility while simultaneously providing these kinds of tools and more to guide you along the way.
Take the next steps in your optician career with Penn Foster
Penn Foster's flexible
Optician Exam Prep Career Diploma
program will give you the tools to sit for the ABO/NCLE certification exams to help you get started in your dream career. With modern online training through live-action videos, video demonstrations, and interactive practice exercises, you will be well equipped with the tools that can help you prepare for success as an optician. If you're ready to get started on the path towards your career goals, speak with an Admissions Specialist at
1-888-427-6500
.