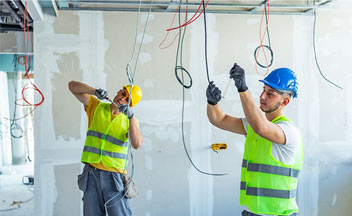 A career as a residential electrician can be extremely rewarding for someone who enjoys problem solving, is an effective multitasker, and enjoys doing something new every day. While the core nature of the job has mostly remained the same, the technology and equipment has adapted over time, and today's residential electricians have their own unique needs and challenges.
In an industry that is quickly growing and changing, how do you make sure you have the skills you need to succeed? Here are some things to consider so you can ensure you're well equipped to be an effective residential electrician from day one.
1. The ability to gain hands-on experience
When thinking about a residential electrician training program, a good option is to find one which is mostly online and offers flexibility, while also giving you the chance to practice the skills you've learned in person. Penn Foster allows students the opportunity to gain optional work experience to enhance their learning and gain hands-on training working with the technology and tools in person.
Hands-on experience can also come in the form of interactive online learning that lets students demonstrate what they've learned. The Penn Foster program has prioritized updating courses to provide interactive demos and animations that mimic real-world experiences, allowing you to become even more familiar with tasks that today's residential electricians must do every day.
Related:
How to Become a Residential Electrician
2. The ability to absorb new skills quickly and efficiently
Whether you're starting a job at a new company or looking to enter the electrical field, you want to make sure you're retaining the skills you need in as quickly as possible to be able to hit the ground running. At the same time, due to the major responsibilities of the role, it's vital that you're not just learning for a test, but that you can fully process the material to effectively perform at your job.
A training program that embraces flexibility and takes their learning model seriously to make sure you're absorbing the material for the long-term can help you build confidence in your abilities. Tradespeople will always be in demand, yet with over
700k jobs and 9% job growth
, employers are eager to have qualified residential electricians as soon as possible.
3. A balance between foundational skills and up-to-date information
Despite the changes in the industry, understanding the core foundational skills required for a job as a residential electrician will always remain valuable. An understanding of the National Electrical Code, for instance, and how to install systems that comply with the NEC, will always be a necessary skill.
Just as valuable is a training program that is able to combine this training with the modern needs of the industry and ask the question, "How is this information relevant today?" For example, sources of
alternative power generation
like solar and wind are increasing across the country and will require electricians who understand how to maneuver those sources of power for homes.
Penn Foster's Residential Electrician Career Diploma Program is designed to ensure we're always up-to-date on what's going on in the industry so students can be prepared for jobs in the field. That's why the program is regularly examined and updated: to make sure that the content is relevant and stays on top of changes in the industry.
Gain the confidence to succeed in the electrical industry with Penn Foster

Penn Foster's flexible Residential Electrician Career Diploma program can help you take the next steps toward the career you want. Get started on the path towards becoming a residential electrician by speaking with an Admissions Specialist today at 1-888-427-6500!