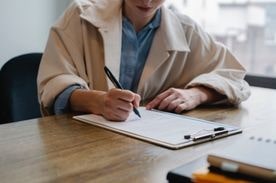 Whether it's your first time applying for a job or you're hoping to improve your chances of getting interviews for roles you're interested in, a strong resume is key! But how can you write a good resume? What should you include? We spoke with our resident expert, Kristen Schenck, to find out. A talent acquisition associate at Penn Foster, Kristen has a wealth of experience reviewing resumes, offering resume advice, and conducting interviews to hire talented people to help our students. Here's her advice on writing a great resume!
Why is a strong resume important when you're applying for jobs? Do I need to write a resume if I submit an online application?
Kristen: You should always have a resume ready when you're applying for jobs, even if that job has an online application for you to fill out. The job market is very competitive right now, so having a strong resume can be essential to getting to the next step in the process – getting an interview! Your resume needs to grab the attention of the hiring manager, who may only take a few minutes to scan your skills and experience. The employer must quickly understand what advantages you offer their company and a strong, well-written resume can do that.
What do hiring managers look for when considering job candidates?
Kristen: Depending on the job you're applying for, there are a variety of things a hiring manager may look for when scanning potential candidates. In general, though, most look at the relevant skills you list, the amount of time you've spent at each employer, and your education.
When you're reviewing resumes for open positions, what can make a resume stand out to you? What things can cause a resume to disqualify a job applicant?
Kristen: For me, volunteer work or a demonstrated, continued interest in helping others is important and can really stand out. However, a resume with typos and grammatical errors stands out too – in the wrong way. Misspellings and grammatical errors are the main reason resumes get overlooked. It is also important to have a format and text that can be easily read.
What advice do you have for someone writing a resume for the first time?
Kristen: Whether you're writing a resume for the first time or updating a resume for a new career opportunity, there are a few things that can make a difference. When you're applying for jobs in any industry – from healthcare to skilled trades – it's important to
Be concise. Employers and hiring managers often have many resumes to go through, so they'll scan or read submitted resumes in as little as a few minutes to determine whether or not they should take a closer look. An overly long resume can be set aside because it includes too much information.
Pay attention to grammar and typos. Misspellings and typos can send your resume to the bottom of the pile, so it's important to proofread and pay attention to detail before submitting it to an employer.
Highlight your skills. A resume is meant to give an employer a clear idea of how well you can perform the role you're applying to. Highlighting your skills in a consistent and easy- to- read manner can help you put your best foot forward.
Customize your resume for each job. You're probably applying to several jobs at the same time, so it may seem easier to submit the same resume to each one. However, to increase your chances of getting an interview, customizing your resume to each different job opening is best. This doesn't mean you need to completely rewrite your resume for each job. Instead, you'll want to pay attention to what keywords and skills the job description uses and tweak how you describe your experience and qualifications.
Use a simple resume template and ask for help filling in your education and career experience if you need it. We have career coaches here at Penn Foster who can help you with just that. Include employers, dates of employment, and a bulleted list of duties.
Font size should be 12pt, and Arial or Calibri are best when writing your resume.
Avoid using long paragraphs – try to simplify into short, bulleted sentences.
Don't use bright colors with paper or text - It appears unprofessional.
Use spelling and grammar correctly.Use correct verb tense:

Present tense for duties you currently perform.
Past tense for previous actions/jobs.
What if you don't have a ton of job experience to include on your resume?
Kristen: It's important to lead with your strengths. If your education is the strength, list your education and any other courses, trainings or volunteer work you have done.
What if you've worked a lot of jobs in the past – should you include all of them on your resume, even if it makes the resume go onto a few pages?
Kristen: The standard is to include the past 10 years of work history. It is best to keep your resume to 1-2 pages, but this will vary with career experience. You can leave anything out that doesn't relate to the job, but keep in mind you will have to explain gaps in employment.
What's the best way to format your resume?
Kristen: Keep it simple and easy to read. Generally, a good resume outline should like this.
Education

List this first if you are a current student.

Skills/Qualifications

Include keywords from the job posting.
List your relevant skills.
Mention any credentials or certifications you've earned.

Work/Career Experience

Include up to 10 years of employment history.
List your most recent jobs first.
Make sure to include the dates of your employment.
Include your job titles and responsibilities.

Personal/Other

What makes you interesting, impressive, and unique?
List other certifications you've earned.
List any personal accomplishments.
Include any clubs or associations you've been in.
Mention any volunteer work.
Does Penn Foster offer help to students or alumni who want more resume advice?
Kristen: Yes! We have career coaches who can help you build your resume, customize your cover letter, search for jobs, practice interviewing, and more! You can connect with a career coach by calling 1-800-572-1682 or sending an email to [email protected]!
Strengthen a resume with education
If you're hoping to take the next steps toward a new career path or even a promotion in your current job, one way to stand out can be by furthering your education. Education can show employers that you have the skills they're looking for and that you're willing to work to reach your goals. For more information about Penn Foster's online programs, or how they can make a difference on a resume, reach out to our expert Admissions Specialists at 1-888-427-6500!