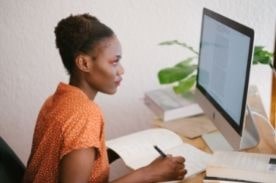 Whether you have a busy schedule, like to learn at your own pace, or want to avoid a daily commute to in-person classes, online education can offer you the opportunity to reach your goals on your terms. If you're considering enrolling in a Penn Foster program to further your career, earn a degree, or finish your high school diploma, here's everything you need to know.
How to choose the right online program
Before you enroll, the first thing you need to do is decide which program is the best choice for you. Generally, the easiest way to do that is to consider what you want to accomplish. Do you want to get a promotion at work? Start a job in an entirely new field? If you're not sure what your next career move is, our expert Admissions Specialists can help! You can reach out to them for more information on a variety of programs, from high school to college degrees, and zero in on which path you want to walk down.
How to enroll in Penn Foster
Once you've decided which online program is right for you, the next step is to get started! You don't have to fill out an application or wait for a specific time to enroll – with Penn Foster's rolling admissions, you can sign up and start your classes whenever you're ready. But if you're new to enrolling in online classes, you may still have a few questions about the process. Check out these frequently asked questions to help you move forward.
How do I enroll in Penn Foster? When you're all set to start your program, you can enroll either over the phone with an Admissions Specialist or online here. If you're sure about the program you want to enroll in and have no additional questions, enrolling online can be the fastest, easiest way to do it. However, if you have any questions at all – or need help deciding if this is the right move – call our admissions department at 1-888-427-6500.
What are the enrollment requirements? Enrollment requirements can vary by program. For example, if you're planning to enroll in the High School Diploma Program, requirements include being at least 13 years old. For college degrees and certificates, students must be at least 17 to get started. However, there's no age limit for our programs, so whether you're 18 or 100 you can take the next steps toward your goals.
When do classes start? Since Penn Foster programs are self-paced and there are no set enrollment deadlines, classes start whenever you're ready.
What paperwork do I need to submit to the school? At Penn Foster, you don't need to submit applications to be accepted into your program. However, there may be some forms you need to fill out after you get started. For college or career programs that require a high school diploma, you'll fill out the high school completion form that can be found in your Student Portal. This allows us to verify your diploma without you needing to send in a copy of the actual document.
How do classes work at Penn Foster
Once you're enrolled, it's time to get started! At Penn Foster, all of your classes, study guides, exams, and important documents can be found in your Student Portal. Once you're officially enrolled, you'll create a username and password to log in to your Portal whenever you want to study or take an exam. Information in your Student Portal includes
Your classes and study guides.
Access to digital textbooks for classes that require them.
Important forms, like the proof of high school completion document.
The Student Portal Help Center, where you can message questions to instructors 24/7.
Access to resources to help you in your studies, including the Penn Foster Digital Library.
You'll have access to your Portal 24/7 so you can log in and study, take exams, and complete projects whenever you have the time.
What do you need to start a Penn Foster program
If you've officially enrolled in Penn Foster, paid your first tuition payment, and logged into your Student Portal, you're ready to start learning! However, you may be wondering if you need any additional materials to make sure you get the most out of your program. While most of what you need is available online, you may also want to have tools for taking notes or making flashcards. Other items you may want to have on hand include
Access to a word processor, like Microsoft Word or Google Docs. In some classes, you may need to submit an essay, create a spreadsheet, or a PowerPoint presentation. You don't necessarily need to purchase Microsoft Office – especially if you only have a few classes that require you to use these programs. Instead, you can use open-source programs like Google Docs, or even get a free trial or subscription to Microsoft products.
Dedicated notebooks or a note taking app. You'll want to keep all your school notes in one place, so having a notebook dedicated to your studies can help you stay organized. If you prefer to be completely digital, you can also use a note taking app like OneNote.
Contact information for the school and your instructors. If you're studying and run into a problem you're stuck on, it's a good idea to have the school's information on hand so you can reach out. If you have an account question, aren't sure about payments, or anything else related to your program, you can reach Student Services at 1-888-427-1000. You can also be put in touch with your instructors by calling this number!
Take the next steps toward reaching your goals with Penn Foster
With Penn Foster's flexible, online programs, you can start and finish your education at the speed that works best for you. If you're ready to enroll or have more questions about which program could be the best fit for you, reach out to our expert Admissions Specialists at 1-888-427-6500 today!