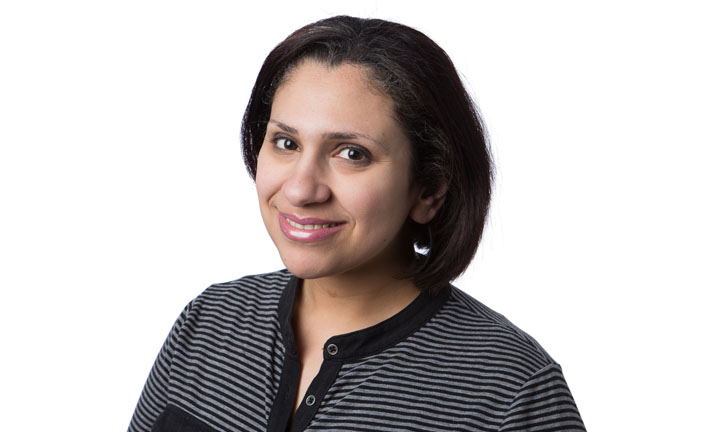 At Penn Foster High School, you can earn your diploma online, on your own time. Although there is a lot of independence in being an online student, our instructors are here to help you get through the tough stuff, like math. High school math instructor, Mariam Dawoud, has a passion for math that she loves to share. We interviewed her to learn what sums her up as a teacher.
Tell us what you teach at Penn Foster and why you're passionate about it.
Mariam: I teach high school math. Math makes so much sense to me. I believe many of the secrets of this beautiful world lie beneath the math it conforms to. To me, nature looks random, but by close examination I discover much of it follows certain mathematical functions, which express uniform randomness that I enjoy and take for granted every day.
How did you develop an interest in math?
Mariam: Living in a time and part of the world where women's education wasn't looked at as a necessity, but rather as a social image, led me to advocate for true, meaningful, and empowering education for girls and women. Education gives a person the power to make U-turns in life whenever they deem necessary.
Tell us a bit more about yourself!
Mariam: Currently I'm interested in learning about nutrition and natural medicine. I also like to read non-fiction books to learn about experiences I may never live myself. I paint occasionally. I'm a mother of three precious boys.
What's something you think would be helpful for learners to know to succeed in their studies?
Mariam: Learning anything is a process; it takes time and effort. Think about learning a foreign language. No one reads a "How to Speak French" book and is able to speak fluently with a native French accent the next day. Even learning to bake the perfect moist cake takes time and practice! Be kind and patient toward yourself.
What does it mean to you to help our learners get a good education?
Mariam: Every time I hear the excitement in a student's voice for getting the right answer to a problem, I feel rewarded. I feel happy for them because it isn't about the problem they got right, but surely, it's about realizing they can do more than they thought they can.
What's the best part about being a teacher in an online school?
Mariam: I say the best part of teaching is being part of many success stories. Every time a graduate calls in just to say "thank you," is a confirmation that I was meant to be a teacher.
If you could give our learners one piece of advice, what would it be?
Mariam: I advise each student to be fair to yourself before jumping to conclusions. Give yourself a full opportunity to work through your studies. Find a quiet corner to complete your studies, learn how to take effective notes, reach out to your teachers if you feel stuck, and take exams only when ready. Be stubborn and persistent to get to your goal.
Learn more about online high school
If subjects like math are something you struggle with in school, Penn Foster's online, self-paced high school may be a good fit for you. You can complete your classes on your own time, getting help from instructors like Mariam when you need it. You can request information on our website. Our admissions specialists are also here to help answer your questions. Call us at 1-800-275-4410 to get started.