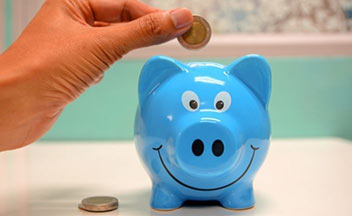 We all have financial goals, whether we're hoping to build up our savings, save for a big purchase, or just improve our financial skills. No matter the reason you're looking to improve your finances, it can still seem like a challenge to make it happen – especially if you don't have experience with budgeting or don't know different ways to save within your means. It may even seem, sometimes, like an impossible goal when you're living paycheck to paycheck – but it doesn't have to be. Try these tips to take the first steps toward setting and reaching your financial goals!
How to set financial goals
The first step in reaching financial goals is to figure out what your important goals are. It can be helpful to take a few minutes to write your goals down, so you have something you can refer to when you take your next steps in your plan toward accomplishing them. It also helps you feel motivated about what you're working toward. Beyond that, though, there's research that writing things down really does help; a study showed that you're 42% more likely to reach your goals if you put them down on paper (or in digital form, whatever works best for you)!
Your goals can be anything that you want to accomplish, from paying off debt to increasing your income.
Start and stick to a budget
Spending more than you make per month can lead to debt, so a good budget can help you stay on track. Tracking how much you make and what you spend per month on bills, groceries, and other expenses can help you make sure you make on-time payments, avoid overspending, and start saving. If you've never made a budget before, here's how to start:
Decide how you want to keep your budget. There are several ways to make and track your budget, from creating a spreadsheet to using an app to help do it for you!
Make sure to note down all your expenses. These include bills, how much you spend on groceries per month, rent or mortgage, car insurance, etc. You should also try to include things like how much you spend on entertainment per month, like any monthly subscription costs, the cost of ordering takeout or going to the movies.
Figure out what you have left over. After paying your bills, how much of your monthly income do you have left? This amount is what you have to spend on things not included in your budget, like incidental expenses that may come up. It can also give you a good idea of where to start to set aside money in savings.
Sticking to the budget isn't always as easy as making one, but you can absolutely do it! To help stick to your budget, you'll want to
Keep your budget realistic.
Be accountable to someone.
Be flexible and don't punish yourself if you slip up now and then.
Save money where you can – but don't beat yourself up when you don't
Saving money sounds easy, but when you don't have much disposable income and a lot of bills to pay, there may not be a lot left to save at the end of the day. It doesn't help that many of us think of saving money as putting aside hundreds of dollars a month. But saving up can start small. You can get started by doing these three things:
Using coupons, discounts, and deals. When you're shopping, use the coupons available through your store or the manufacturer to save a little money! You can also do things like keep an eye out for discounts and save big purchases for days when you know there is a sale. It's not a lot, but it can add up!
Saving where you can. Do you need that new pair of shoes? Do you need to go out to eat three nights a week when you have food at home? If something isn't necessary, think twice before buying it.
Putting aside a little money every week. Building up a savings account can really help you reach your financial goals in the long term. Having money in savings can make a big difference when any unexpected things come up, from your car breaking down to having to move. You can start small, especially if you don't have a lot of flexibility with your money. That means putting aside what you can, whether it's $20 a week or the spare change you have in your pocket. Over time, that amount you have set aside will grow!
A lot of people often like to say that if you stopped getting your morning coffee at a café and make it at home, you'll reach your financial goals faster. While that's true, skipping everything you enjoy will eventually make saving money and budgeting a burden, making it hard to stay motivated. Sometimes, that morning coffee might be the brightest moment of your day, or it might be something you just look forward to. That's okay! It's important to remember to treat yourself when you can and be flexible with your spending and yourself.
Increase your income
With increased income, you'll have more money to spend on your financial goals. There are several ways to increase what you make, including working toward a promotion or even starting a new career. But if you don't have experience, how can you qualify for higher pay and or a new job? Often, having the relevant educational background and skills an employer is looking for can make a difference. That's where going back to school can help! Earning a diploma, degree, or certificate can boost your resume and help you prepare to take on new tasks. But what about the cost of education? Can't paying for school take away from your financial goals?
Education, while it can initially be a cost that detracts from your immediate cash flow, is an investment that can have high impact on your finances. In fact, it may help you reach your goals even more easily. And, education doesn't have to be hugely expensive! With an online school like Penn Foster, you can make monthly payments toward your program tuition so it works with your budget.
To learn more about how online education can work for you and your financial goals, reach out to our Admissions Specialists today at 1-888-427-6500.