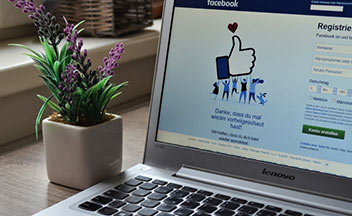 Whether you're a new Penn Foster student or are just starting to explore online education options, you want to make sure you have all the information you need to be as successful as possible in your classes. While you can find a ton of helpful advice and knowledge in your Student Portal, through our Student Life Blog, or on our website, sometimes a video can be more helpful when you're trying to absorb a bunch of new information.
We've got you covered! Through our regularly scheduled Facebook Live videos – we usually go live every couple of weeks – hosts Lauren and Jess discuss the questions that you may have about enrolling, tips for being a successful online student, and even interview your instructors about what you need to know when you're pursuing a diploma or degree. Check out these five Facebook Live recordings to find out more about Penn Foster, online school, and more!
1. How to enroll with Penn Foster
If you haven't started an online program yet, you may have a few more questions and concerns before you make the decision to enroll. In our video, Admissions FAQs, we chat with an expert from our admissions department to answer all your questions about enrolling in a Penn Foster program. From information about tuition and payment plans, to details about program prerequisites, you'll learn all about the step-by-step process of taking the next steps toward furthering your education.
Watch the full video and learn more about enrollment requirements at Penn Foster.
2. What's better for me – a diploma vs. certificate vs. degree
With so many options to choose from, it might be tough to decide which kind of program is right for your goals. Each program type – career diplomas, college degrees, and certificates – has different benefits and can help you reach different goals, whether you want to further your education for personal reasons or to get ahead at work. In this video, Jess and Lauren break down the different types of programs we offer at Penn Foster and how you can figure out which is the right fit for you. You'll also learn more about the different programs we offer in each category, from veterinary programs to skilled trades training.
Check out the full video and figure out whether a diploma, certificate, or degree is right for you!
3. How to be a successful online student
While online classes may teach the same or similar curriculum to traditional, in-person courses, online school can come with different challenges. These include learning how to manage your time, how to study independently, and how to get help when you need it. Through our Facebook Live, The Ultimate Guide to Penn Foster Success, we cover everything you need to know about time management, motivation, how to take different types of exams, where to go when you need help, and how to connect with your classmates.
Learn more about being a successful online student by watching the full video!
4. Staying motivated in online school
Keeping yourself motivated throughout your online courses can be tough – especially when you're juggling work, family life, and other responsibilities with your coursework. But don't worry, we're here to help! In several Facebook Live videos, we cover essential tips for motivation, overcoming challenges, and managing stress so that you can get through even the most difficult of classes.
Learn how to manage stress and overcome challenges and how to stay motivated to reach your goals.
5. Tips on resume writing, getting the job, and using your Penn Foster diploma or degree
Getting a job after graduation is a big goal for many students and knowing how to write a strong resume, how to include your Penn Foster degree on your resume, and how to do well in job interviews can make a big difference. In an interview with our very own hiring manager, Kristen, we cover tips for great resumes, why a cover letter is important, and what hiring managers are looking for so you can be as prepared for success as possible.
Find out what employers are looking for and how to write a great resume!
Find out more about being an online student and Penn Foster through Facebook Live
Through our Facebook Live recordings, you can learn more about how Penn Foster works, how to become a Penn Foster student, and how to stay motivated – 24/7! On our Facebook page, just click on the "videos" tab to check out all of our previous Facebook Live recordings to get advice and insights about online school. You can also stay up to date with our newest videos by following us on Facebook!