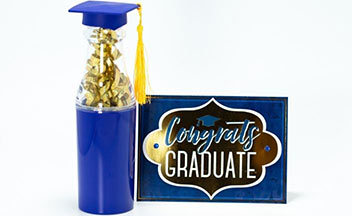 Graduation time is here again. This is a momentous event, highlighting all of your hard work through the months and years. While you'll never forget your time at Penn Foster or the landmark you've reached, our online yearbook serves as a great way to recognize your effort and mark the special occasion, as well as recognize the achievements of your peers. Here's all you need to know about the Penn Foster yearbook and how to be included.
What is the Penn Foster yearbook?
At the end of each academic year, schools usually put out a book capturing all the memories, events, and achievements of the student body that took place. It's a great way to ensure you'll remember your time at school well after it has ended. While traditional, in-person schools usually provide you with a physical book, here at Penn Foster, we do it the same way as we do everything else - online! We are compiling submissions from students who want to share quotes, well-wishes, inspirational messages, and photos or videos. Once finished, you'll have access to a link where you can view your submission in a digital yearbook as well as those of other graduates, staff, and instructors just like if you had a hardcopy of a yearbook!
How to apply for the yearbook
If you've already completed your program or will complete it by August 2022 and want to be featured in the digital yearbook, it's a pretty simple process. First, you'll access a student testimonial form where you can give feedback on your time and experience with Penn Foster. You'll provide basic information like your name and email address, well as student identification number. Once finished, you'll be directed to the yearbook submission form. From there, feel free to include any type of message you wish! This can include a note of gratitude, inspirational words, or just general congratulations to yourself and peers for a job well-done. You may also include a photo or short video message, too, if you'd like.
Tips for yearbook submissions
Sometimes it's a little difficult to think of what to write, especially when you're likely feeling a lot of emotions, or you've never submitted something like a yearbook message before. Some key things to keep in mind are to keep it simple; thousands of students have graduated, so there will be many notes and messages to look through. You can include any type of message that shows your gratitude and pride in your achievement or offer your support and pride to other graduates. No matter how different your life or experiences are, everyone graduating is alike in that you've achieved something great that can make a positive impact on your lives for many years. If you struggle to find something to say, think about your favorite inspirational quote or do some online searches to find something suitable to how you're feeling. There are many sites online that have compiled lists of famous quotes that could be suitable for your submission.
If you decide to include a photo, take the opportunity to get creative! Take a photo with your diploma or wearing a cap and gown. Don't forget to share these on social media, too, and tag us using #pfproud. If you already have a photo of yourself you like, feel free to use that. If you are taking a new picture, though, remember to have good lighting and a background you like. It can be a plain wall, graduation posters or banners, or even something outdoors in a place that's special to you.
Whether you choose a written submission, a photo, or both, remember to always keep it appropriate and have fun! The submission deadline is July 31, 2022, so be sure to complete the form before then!