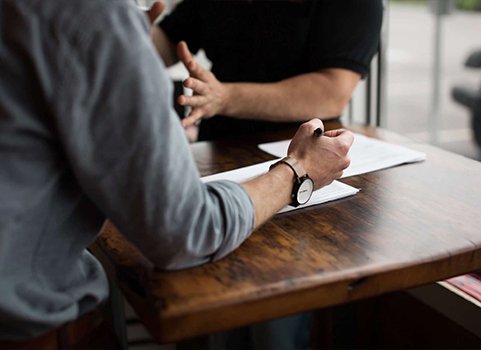 Business
4 Jobs You Can Do With A Human Resources Degree
You're a people person and you can't imagine a career that doesn't allow you to work closely with others. You also want to make sure your career can make an impact on those around you. Working in human resources could be the job for you. The field isn't just one particular job. Human resource departments are made up of professionals who perform different tasks. Here's a few jobs that a Human Resources Management Associate's Degree can help prepare you for.
Human Resources involves several roles
You're a people person. You know that working with others in any capacity, from customer service to food service, gives you life. You honestly can't imagine being happy in any career that doesn't allow you to interact with people, but you're also looking to start a career that allows you to make an impact and grow with a thriving company. Do you have to give up being yourself to begin a new career path? Not at all. Your engaging, people-focused attitude could make working in human resources the perfect move. But human resources isn't just one single position; it's actually made up of different roles and skill sets to form the best team. Here's a few jobs you could do in the field with an associate's degree in Human Resources Management.
Human Resources Generalist/Assistant
As a Human Resources Generalist or Assistant, you'll help with day-to-day business in the office including posting open positions, sorting through applications, and calling prospective hires for interviews. Depending on the environment you work in, you might also be responsible for assisting with employee training and development, as well as mediating employee and manager issues.
In this role, you're able to use your outstanding people skills to make a positive impact on the employees in your company. Flexible, online classes in your human resources degree like Training Concepts, Essentials of Psychology, and Principles of Management can help you take the next step toward being able to make an impact on new employees for your prospective employer.
Benefits Assistant
One of the most confusing parts about a new job for many hires is how the employee benefits work. From health insurance to time off, a benefits assistant is the go-to for expert information. In this role, you'll interact with employees regularly to provide information about the company retirement plan and health insurance policies, and ensure employees understand how their personal and vacation time works.
You'll maintain detailed employee records, make certain that all the necessary information is up to date, and keep employee information confidential. Being confident about public speaking is a must, as you'll be tasked with creating presentations about the benefits offered at your company and responsible for speaking in front of small to large groups.
The Employee Benefits class in Penn Foster's Human Resource Management Associate Degree covers legally-required social insurance programs for employees, understanding the differences between group and individual insurance, and how pension plans work.
Compliance Specialist
If you're someone who is extremely detail-oriented, working in compliance as part of human resources could be the job for you. As a Compliance Specialist, you're tasked with understanding the laws and regulations relevant to the industry you're in and ensuring they're followed. You'll have to keep up to date on the policies that affect your company, so that requires an interest in continually learning and adapting.
Learning about the legal environment of businesses by obtaining human resources degree can help you prepare to better understand the different forms of organizations, the elements of rules and contracts, and laws pertaining to employment.
Payroll Assistant
You enjoy working with others and want a job that really matters, but aren't sure if you want to train employees or be responsible for hiring decisions. That doesn't mean you can't work in human resources. One of the most vital positions in an HR department is that of the payroll assistants. You're responsible for collecting time cards, ensuring they were filled out accurately, and entering the information into the payroll system. Employees want to be paid for the work they do, and they want to be paid on time, so the role of the payroll assistant is essential.
The compensation management course in Penn Foster's HR Degree covers foundational information about payroll, compensation plans and implementation, and more.
Be a resource for others
By furthering your education in Human Resources Management, you can prepare to make the next move toward a career you enjoy. With Penn Foster's affordable, online associate's degree, you can start picking up the skills and knowledge needed to be a trusted resource for employees in an HR department. Start today by speaking with an Admissions Specialist at 1.888.427.6500!