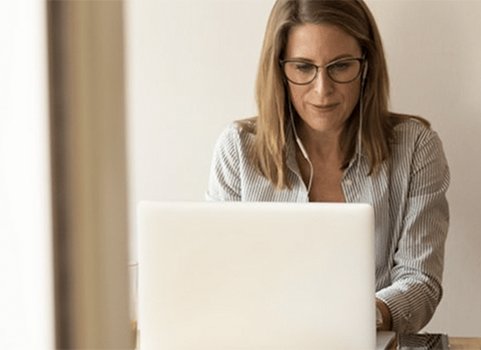 Online Learning
4 Myths About Going Back to School as an Adult
You have goals that you've wanted to accomplish for a long time, but it feels almost too late to make them a reality. After all, you're too old to go back to school, right? The answer to that is absolutely not. Here's why going back to school at any age is a smart move.
Can adult students go back to school?
You have goals that you've wanted to accomplish for a long time, but it feels almost too late to make them a reality. After all, you're too old to go back to school, right? The answer to that is absolutely not. Going back to school has no age limit, especially in a digital age when technology is continually improving, making online education better than ever. But, still, some doubts about being older than the average student aren't easily shaken. Before fully convincing yourself that you are too old to continue your education, whether that means finishing high school or enrolling in a college degree, here are a few reasons why you shouldn't believe the myths.
Myth #1: It's a lot harder to learn after 25.
As a kid, your brain is growing and there's so much room for new languages and information. It stretches to fit as much knowledge as possible up until you're around 25 years old. At that point, your brain has learned a lot and it's set in its ways. Learning after that point feels a little more like work than it used to, so many people are tempted to give up. What's the point?
The reality: You won't learn as quickly, but you can train your brain to develop new habits.
You don't lose smarts after you pass a certain age, you just need to work a little longer to make the information you're studying stick. Even better, just like regular physical exercise overtime gets easier as your body adapts, your brain can adapt and change with regular training. Going back to school, then, can help you improve how fast you learn over time. Practice makes perfect, right?
Myth #2: Most people who go back to school are under 25.
School is for people in a certain age group. If you go back when you're 25 or older, you'll be the odd man out — one of the only adults in freshman-level courses. You won't have anything in common with your classmates and, even worse, you're worried that you'll stick out so much that you're uncomfortable. School is for kids, right?
The reality: Many adults go back to school after 25 for a variety of reasons.
The National Center for Education Statistics found that, in 2009, 40% of students enrolled in a two or four-year college were over 25. They expect to see that increase to 43% by 2020. Returning to school as an adult is becoming more commonplace, but if you worry about standing out or feeling out of place, online education is a flexible option to go back to school. Besides not having to take classes with people significantly younger than you, online classes allow you to study and take exams around your schedule, which can be much more convenient for adults who work and have family responsibilities.
Myth #3: Once you study for a career and land a job, you don't need to go back to school.
The point of school is to graduate and get a job in the field you studied, right? Once you graduate and start that career, there's no need to go back to school unless you want to completely change careers. Even then, it almost feels like a failure, saying you made the wrong choice years ago and going back as an adult to fix it.
The reality: Continuing your education and training is vital to growing in your career.
No matter your age, if you're interested in moving up at work or even maintaining your knowledge of the industry you're in, furthering your education is crucial. This is especially true for those working in fields that are constantly updating and changing with new technology and processes. Many healthcare careers such as pharmacy technician or medical assistant actually require you to earn a certain amount of continuing education units to keep your license or certification.
For careers that don't demand you complete regular new training and coursework, it's still a smart move to be constantly learning and growing. Besides picking up new skills, making the effort to continue your education in your field shows employers that you're serious about what you do and are willing to work hard to move up. This makes going back to school at any age, whether to complete a full training program or degree or to complete a short certificate course to build on skills you already have a practical and normal thing.
Myth #4: Going back to school is impossible when you work full time and have a family.
Going back to school as an adult is more accepted than ever. But, with your full-time work schedule and the responsibility of caring for and spending time with your family, having the time and resources to attend classes is next to impossible.
The reality: Online education can allow you to live your life and continue learning.
Online classes and programs are better than ever. With the flexibility of self-paced courses, the ability to make tuition payments on a monthly payment plan, and access to your studies wherever you are, you can make going back to school as an adult learner work for you. You can build new skills to add to your resume, work toward earning a promotion in your current job, or prepare to start down an entirely different career path when you have free time.
Your age is just a number at Penn Foster.
Whether you're 25, 85, or anywhere in between, you're never too old to learn. Adults are returning to school to advance in their career, take classes just because they love to learn, and even start new hobbies. With Penn Foster's online courses that don't come with deadlines and due dates, you can take the next step in your journey - whatever that may be! Learn more about our flexible programs and tuition by speaking with an Admissions Specialist today at 1.888.427.6500.