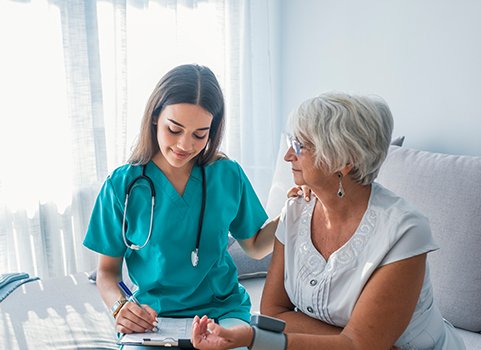 Healthcare
Do Medical Assistants Need to Be Certified
Currently, medical assisting is one of the few medical careers that doesn't require certification or licensing in most states. But even though certification isn't required, it can be beneficial to your career goals and help you prepare to be a competitive candidate when applying to jobs. Here's what to know about certification for medical assistants.
Do you need to be certified to get a job as a medical assistant?
Many jobs in the medical field require employees to have specific industry, state, and national licenses to be eligible to work. Currently, medical assisting is one of the few roles that doesn't in most states. Although certification isn't necessarily required to get a job as a medical assistant, successfully earning certification can make you a more competitive candidate when you're applying to a hospital, clinic, or doctor's office.
In fact, having an industry-recognized certification on your resume can not only help you stand out from other job applicants, those who have become certified can often expect to earn a higher salary starting out. If you're interested in starting a career as a medical assistant, here are the steps to take to prepare for certification and build skills with confidence.
Why become a certified medical assistant?
Becoming certified offers an extra layer of proof that you now have the skills and knowledge needed to be a strong medical assistant. Besides showing that you know your stuff, many employers prefer to hire certified medical assistants to avoid potential malpractice accusations. Those who have a legitimate certification on their resume can be seen as a lesser legal risk and may require less on the job training.
Further, medical assistants who have industry certification can perform some important duties that those without certification can't. Based on a 2012 ruling from the Centers for Medicaid Services, only those medical assistants who have valid certification are allowed to enter medication, laboratory, and radiology orders into the computerized provider order entry system.
Besides preparing you to be a more competitive job candidate when applying to open positions, certified medical assistants can earn as much as 7% more each year compared to those who aren't certified.
How to become a certified medical assistant
Certification isn't just taking and passing an industry exam. For medical assistants to become certified, they must first meet some eligibility requirements. The biggest of these requirements is almost always successful completion of a recognized medical assistant training program or degree, followed by registering and sitting for the exam. After becoming certified, you'll need to recertify every 1-3 years depending on the credential.
Penn Foster's online Medical Assistant Career Diploma and Medical Assistant Associate Degree can help graduates to prepare to sit for recognized exams such as
American Medical Technologists (AMT) Registered Medical Assistant (RMA) Certification
The Certified Clinical Medical Assistant (CCMA) certification offered by the National Healthcareer Association (NHA)
The National Certified Medical Assistant (NCMA) certification offered by the National Center for Competency Testing (NCCT)
The Clinical Medical Assistant Certification (CMAC) offered by the American Medical Certification Association (AMCA)
Is a degree or a career diploma better for preparing for certification?
The biggest difference between earning your Medical Assistant Degree and a Medical Assistant Career Diploma is the time it takes to complete the program. For those students who don't need college-level general education classes and want to focus strictly on classwork relevant to the field, the diploma program could be the best fit.
The four-semester college degree program covers in-depth information relevant to working as a medical assistant alongside general education courses like English, writing, and psychology. Both the degree and the diploma requires the completion of an externship, which can help you gain hands-on understanding of what you learn in school.
Both programs can meet eligibility requirements for certification exams, so the right fit for you can really just depend on how quickly you want to be ready to work in the field.
Get help deciding which route is the best for your career goals.
With Penn Foster's online medical assistant courses, you can start preparing for an in-demand career and industry certification whenever you're ready to take the first step. If you're not sure whether a college degree or a career diploma is best for your situation, reach out to speak with an expert Admissions Specialist at 1-888-427-6500.