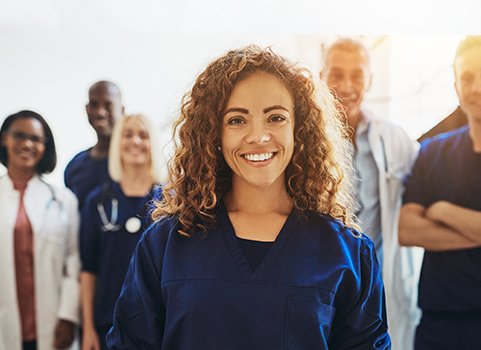 Healthcare
What's Next After Pharmacy Technician School?
Pharmacy technician schools may offer students similar skills, but how and where they will use them can differ significantly. Take a look at these career paths for pharmacy technician graduates and see if you can find the career path that's right for you!
Originally Published on AccreditedSchoolsOnline.org and AffordableCollegesOnline.org
Pharmacy technician schools may offer students similar skills, but how and where they will use them can differ significantly. The BLS notes that more than half of pharmacy technicians work in pharmacies and drugstores; others report to hospitals, general merchandise stores and grocery stores. Ambulatory, outpatient and other patient care centers may also staff pharmacy technicians. Where techs work can have a major impact their duties, training demands and even work schedules. Techs working in retail settings are more likely to field questions from the public than those in hospital pharmacies, but are less likely to work overnight shifts and holidays (24-hour pharmacies are an exception). Techs in pharmacies with patient care services like "minute clinics" may take patient health information, schedule appointments and prepare shots – tasks few other professionals do. Geography matters, too: some states allow pharmacy technicians to mix and compound special medications; others do not.
Future pharmacy technicians who want to get a sense for work early on may be able to find entry-level work as cashiers or assistants. Some employers allow pharmacy technicians to work for a certain period of time on a provisional basis before other requirements kick in, meaning they might have a few months to test the waters before they must invest in mandatory formal education or certification. Pharmacy technician schools with externship programs are another excellent way to gain valuable work experience. Readers can speak with admissions advisors before applying to programs to confirm the nature and extent of these valuable learning experiences.
Opportunities for the Pharmacy Tech Graduate
Pharmacy technicians may choose from several career options after earning an online education. The following descriptions are some examples of possible jobs. They all require a minimum of a career diploma or associate degree, but may not require certification since regulations vary between states. According to the Bureau of Labor Statistics, certification can make it easier for pharmacy technicians to find employment.
Pharmacy Technician
The Bureau of Labor Statistics reports that 52 percent of pharmacy technicians in the U.S. worked in pharmacies and drug stores, while 13 percent found employment in private hospitals in 2014. Drug stores and pharmacies can be a very busy working environment with many responsibilities, including greeting customers, entering their prescription information into the computer, measuring medications, and accepting payment. Pharmacy technicians need to be able to prioritize and manage tasks well because they also need to answer calls from customers and health care providers as they come in.
Those working in private hospitals fulfill many similar job responsibilities, working under the supervision of a licensed pharmacist as they enter orders and fill prescriptions for inpatients and patients soon to be discharged. Hospital pharmacy technicians prepare a wider variety of medications because of the different health needs of the patients they service. In some states, pharmacy technicians are permitted to compound medications under the supervision of a licensed pharmacist. Being detail oriented is essential to prevent prescription mistakes. The BLS projects a growth of 9 percent in the employment of pharmacy technicians from 2014 to 2024, faster than the average for all occupations. Reasons for the expected growth include an aging population requiring more prescriptions and increased health care coverage making it possible for people to pay for medication.
Pharmacy Assistant/Pharmacy Aide
Pharmacy assistants provide the most basic levels of service in a pharmacy. Although they assist pharmacists along with pharmacy technicians, pharmacy assistants do not have the same level of training and education. The primary responsibility of a pharmacy assistant is check people out at the cash register and provide customer service assistance so pharmacy technicians can handle other duties. Job growth for pharmacy assistants is projected to be 3 percent from 2014 to 2024 according to the BLS.
Lead Pharmacy Technician
Lead pharmacy technicians handle the same responsibilities as other pharmacy technicians while also providing leadership and guidance, monitoring workflow and billing activities. In addition to preparing medications and dispensing them into bottles, lead pharmacy technicians are responsible for selecting and stocking medications and supplies in the pharmacy. Busy pharmacies often require lead pharmacy technicians to take on more of the pharmacist's responsibilities in order to free them up to handle tasks that require advanced training.
Pharmacist
Pharmacists are licensed to prepare and dispense prescription medication to patients. They also advise patients about how to use their prescriptions safely. Pharmacists must earn a four-year Doctor of Pharmacy (Pharm.D.) degree and pass two licensing exams in order to practice. They are responsible for record-keeping and administrative tasks and overseeing the pharmacy technicians. The national job growth outlook for pharmacists is 3 percent from 2014 to 2024 according to the BLS, slower than average for all occupations. An increase in the number pharmacy school graduates has resulted in more competition for jobs.