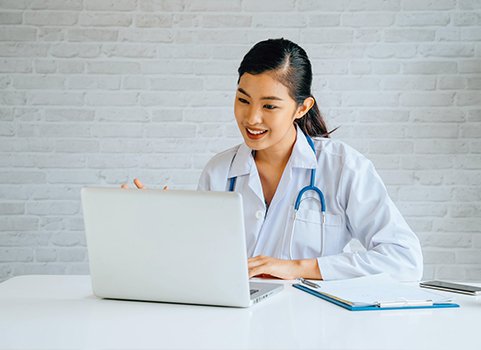 Healthcare
Medical Assistant vs. Medical Office Administrator: What's the Difference?
You've dreamed of working in the medical field, but aren't sure where to start. There are a lot of choices that can sometimes be confusing, like the difference between a medical assistant and medical office administrator. Penn Foster can help you decide which program and career is right for you.
While their names sound similar, it's important to note that medical assistants and medical office administrators are not the same thing. There are some similarities between the positions, but medical assistants have a more hands-on approach by working directly with patients, while medical office administrators tend to oversee more of the day-to-day medical office functions.
What is a medical assistant?
Medical assistants do just that- assist. They usually work in outpatient settings, helping with everything from administrative to clinical, patient-care roles. Most often, medical assistants can be found taking patients' vitals, administering medications under the doctor's direction, collecting information, and scheduling appointments.
Medical assistants can work in hospitals, chiropractic offices, and general practices to name a few. It's important for them to know about health insurance, electronic medical records, pharmacology, and diagnostic procedures. That's why Penn Foster's Medical Assistant Career program can help you gain the right tools to prepare for a career as a medical assistant. After an introduction to allied health, you'll learn about medical laws and ethics to pathology and the human body. Additionally, your courses will cover an understanding of health insurance, medical coding, clinical procedures, and more. You'll also gain real-world, professional experience through an externship. With our flexible, on-demand courses you can set your own goals and learn at your own pace. Once completed, you'll be on the path to qualifying for a number of certifications that are accepted across the country.
What is a medical office administrator?
Similar to a medical assistant, a medical office administrator can work in a variety of settings such as public health clinics, hospitals, doctor's offices, and even insurance companies. As a medical office administrator, you'll be the first point of contact for patients, managing the front desk and undertaking other managerial roles.
Our Medical Administrative Assistant program can equip you for an entry-level position, providing you with classes where you'll learn about electronic billing and medical records as well as standard medical office procedures like office communications and basic math operations. Not only will Penn Foster's nationally accredited program help you prepare for the National Healthcare Association's Medical Administrative Assistant certification, but your tuition even covers a voucher to cover the cost of the exam!
Why choose a medical career?
With so many roles in the medical field, why choose to be a medical assistant or medical office administrator? Well, the need for these roles is growing. With an aging population and higher demand for healthcare, the Bureau of Labor Statistics projects that the allied health field will continue to grow well into this decade, by nearly 23 percent. They also estimate the average salary for a medical assistant is around $31,540, while a career as a medical office administrator can provide an average salary of about $38,880.
Take the first steps towards a career in healthcare with Penn Foster
If you want to study an affordable course at your own pace, start on your path towards a medical career today by calling our Admissions team at 1-888-427-6500 to learn more.