Accounting
Undergrad. Cert.
9 months
Online Accounting Certificate
If you're looking to expand your current knowledge or get a head start toward earning an accounting degree, Penn Foster College's online Accounting Undergraduate Certificate Program can help you build skills that are relevant to a number of industries while earning college credits. Even better, you can study on your schedule from home!
Our online Accounting Certificate can prepare students to enhance their skills to advance in their careers or further their education with a college degree.
Students learn the fundamentals of accounting including financial management, cost accounting, and business law.
Earned credits are transferrable to Penn Foster's online Associate Degree in Accounting.
Our online programs are flexible enough for you to finish them at a pace that works for you, based on how much time you can dedicate to your coursework each week.
Cost of program
$2,399
$2,899 Save $500
or
$89/month, Start for as low as $1
1-800-471-3232 (9AM - 9PM EST)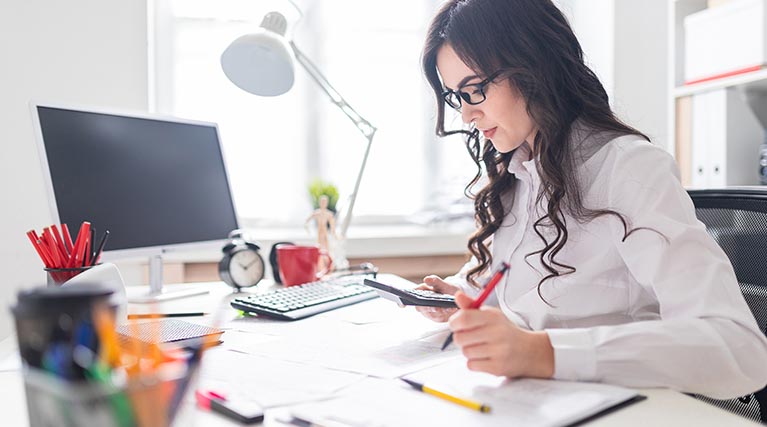 What You Will Learn
How to complete the accounting cycle and create and analyze financial statements to ensure that they are accurate and comply with generally accepted accounting procedures (GAAP).
How to assess financial operations and make best-practices recommendations to management.
How to analyze a firm's financial statements, cash flow values, risks, and returns.
How to create, organize, and maintain financial records.
Full Program Goal & Outcomes
Accounting Certificate Career Outcomes

An accredited accounting undergraduate certificate can help you prepare to advance your career, refresh currents skills, or even get a head start on completing a full degree program. Many accounting skills are transferrable to work in a variety of industries, so what you learn can be applied to a number of jobs. However, it's important to note that an undergraduate certificate in accounting alone may not necessarily qualify you for a specific job however it can help you advance in an existing career.
State Licensing Requirements
Licensing and/or certification requirements for jobs in certain fields are not the same in every state and may include educational, testing, and/or experiential requirements beyond those offered by your Penn Foster Program. You should contact the state professional licensing board or similar regulatory body in the state(s) where you plan to work to determine their requirements before enrolling in your program. See the State Licensing page for contact information for state licensing/regulatory boards and certain industry licensing information.
Accounting Certificate Success Stories
Penn Foster's online Accounting Certificate Program can help prepare you to learn new skills or further your education. This program has helped recent graduates find new jobs or start their own businesses while learning at their own pace. Learn more about Penn Foster graduates' experiences and how Penn Foster worked for them.
View Student Success Stories
Alysha S.
Penn Foster Graduate, 2021
"The things you learn are actually things you do in the field. Everything applies."
Online Accounting Certificate Curriculum
11 courses
31 credits
72 exams
8 submitted projects
Estimated completion time:
Fast track = 9 months
Average time = 12 months
With Penn Foster, you can learn at whatever pace works best for you. Some learners will be more comfortable moving faster, and dedicating more time, and the fast track estimate will apply to them. The average track will apply to most learners who can dedicate a few hours per week to completing their coursework.
In our online Accounting Certificate Program, you'll learn essential accounting skills that can help you prepare to further your education or add credentials to your resume. Your online accounting classes include:
Mathematics for Business and Finance
Managerial Accounting
Financial Management
Computer Applications in Accounting
Show Full Curriculum
Looking for training for your workers?
Penn Foster currently works with hundreds of leading employers to meet their unique organizational needs.

Learn More
Online Accounting Certificate Tuition
Take the first steps toward learning new skills and furthering your education with our online Accounting Undergraduate Certificate Program. Simply choose from one of our low-cost customized payment plans below and get started today!
Cost of Program
Best price. Best value.
Pay the full cost today
No monthly payments
Enroll Now
Cost of Program
Pay $89 per month
Start for $1 down
Credit card, PayPal, or ACH from bank account
Enroll Now
cost of program
Pay $89 per month
Start for $59 down
Mail your payment using coupon book
Enroll Now
Need more info or ready to enroll?
Looking for more information on transfer credits, military benefits, or our refund policy? Find this information and more about tuition and enrollment here.
Tuition & Payment Options
Our Proven Accounting Learning Model
Empowering students to reach their professional goals
Flexible
Start anytime
No exam due dates
Self-paced
Interactive
Digital study guides
Self-check quizzes
Webinars and discussion boards
Connected
24/7 access to online resources
Online student community
Student Portal Help Center
Supportive
Expert faculty
Dedicated student services
Robust learning resources
Online Accounting Certificate FAQs
Can I work as an accountant without a degree?
No, professional accountants or Certified Public Accountants (CPAs) require a four-year bachelor's degree, but there are many financial jobs that you can qualify for without earning a full degree in accounting. These include jobs like a bookkeeper, payroll clerk, or tax preparer. Earning an undergraduate certificate in accounting can help you prepare to further your education to become an accountant or supplement your current education or work experience and add credentials to your resume.
Why should I learn accounting?
Accounting is a foundational element of business and every business needs someone to ensure their financial records are accurate. Outside of professional reasons, learning accounting can be beneficial to anyone who makes financial decisions as a tax payer, investor, or business owner. By learning accounting basics, you'll be able to understand the meaning of financial information that can help you better choose which banks to do business with, what types of loans can work for you, and more.
What is a certificate of accounting?
An undergraduate accounting certificate provides students with a basic overview of important accounting principles, including math for finance and some intermediate accounting classes. These certificates aren't a full degree program that includes general education classes, but offers a focused curriculum for those who want to concentrate on accounting. It's important to note that a certificate alone doesn't necessarily qualify someone for employment in the field. It can, however, help you prepare to further your education in accounting or business or enhance your knowledge if you currently work in a similar field.
What are some industry certifications and credentials that accountants should look to earn?
There are several professional certifications that accountants can earn to enhance their skills or add credentials to their resumes. The most common certification is the Certified Public Accountant (CPA) exam. CPAs generally need at least a four-year degree and some work experience before being eligible to sit for the exam. Similarly, other certifications require a degree or related work experience before you're able to sit for the exam. These include:
Certified financial analyst
Certified management accountant
Certified fraud examiner
Transferring Credits to our Associate Degree in Accounting
In order to transfer the credits earned in our Accounting Undergraduate Certificate to the accounting degree, students must meet certain requirements. A minimum grade of "C" is required for transfer credit and approved transfer credits will be deducted from your tuition.
Read more about Penn Foster's credit transfer policy here.
On average, learners can complete their program in as few as 12 months. Faster learners, or those with more time to dedicate to their coursework, can finish in as little as 9 months. If you don't have lots of time to dedicate to your program, that's ok too! You can learn at the pace that works for you and your schedule.