Small Business Management
Small Business Management Classes
If you're someone who likes to be in charge or you've dreamt of becoming your own boss, our online Small Business Management Career Diploma can help you take the next steps toward the career you want. Through flexible online classes, you can learn how to start and manage a successful small business from home.
This program can prepare students to start or manage a small business in a variety of industries, from retail to service-focused businesses.
The small business management classes cover essential skills for new business owners such as writing a business plan, marketing for your business, and maintaining finances.
Our online programs are flexible enough for you to finish them at a pace that works for you, based on how much time you can dedicate to your coursework each week.
Cost of Program
$749
$989 Save $240
or
$59/month, Start for as low as $1
1-800-275-4410 (9AM - 9PM EST)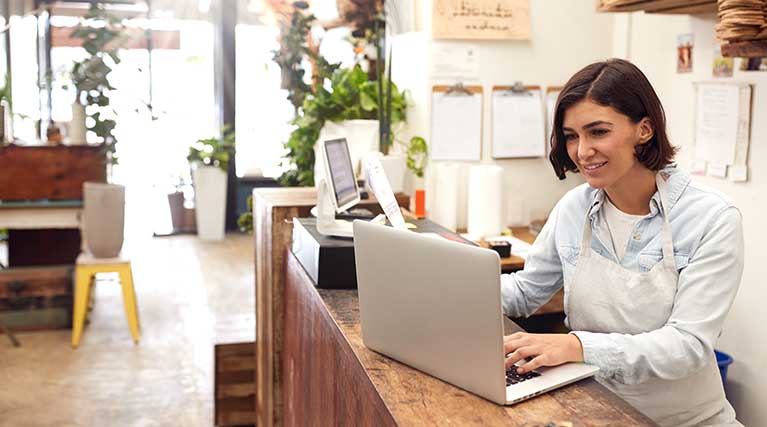 What You Will Learn
How to develop and draft a business plan according to a five-part comprehensive structure.
How to establish an effective marketing strategy that includes an advertising platform and a public relations campaign.
How to understand the range of legal regulations that affect starting a new business including licenses, zoning approvals, and basic tax knowledge, and apply these to a business plan.
How to hire and keep the right employees, including strategies to manage a team.
Full Program Goal & Outcomes
Small Business Management Career Outcomes

Penn Foster's online Small Business courses can help graduates prepare to start their own business or become a small business manager. Graduates can work toward starting businesses in a variety of sectors including the service industry, for-profit and non-profit organizations, or retail.
State Licensing Requirements
Licensing and/or certification requirements for jobs in certain fields are not the same in every state and may include educational, testing, and/or experiential requirements beyond those offered by your Penn Foster Program. You should contact the state professional licensing board or similar regulatory body in the state(s) where you plan to work to determine their requirements before enrolling in your program. See the State Licensing page for contact information for state licensing/regulatory boards and certain industry licensing information.

Additionally, many cities and states require that business owners are registered or have the necessary licenses before starting a business. Make sure to check with your local business administration to ensure you comply with all relevant regulations.
Small Business Courses
6 courses
20.2 continuing education units (CEUs)
17 exams
1 submitted project
Estimated completion time:
Fast track = 6 months
Average time = 10 months
With Penn Foster, you can learn at whatever pace works best for you. Some learners will be more comfortable moving faster, and dedicating more time, and the fast track estimate will apply to them. The average track will apply to most learners who can dedicate a few hours per week to completing their coursework.
In our Small Business Management Career Diploma Program, you'll learn the fundamental skills and knowledge that can help you prepare to start your own business. Your online coursework includes:
Market Research
Writing a Business Plan
Financing Your Business
Keeping Business Records
Show Full Curriculum
Small Business Success Stories
Penn Foster's Small Business Management Career Diploma Program can help prepare you for the first step toward becoming a business owner. This program has helped recent graduates find new jobs or start their own businesses while learning at their own pace. Learn more about Penn Foster graduates' experiences and how Penn Foster worked for them.
View Student Success Stories
Kimberly Q.
Penn Foster Graduate, 2021
"I am truly grateful for Penn Foster and the education that this school provides. I have excelled in my career and education since being a student here."
Looking for training for your workers?
Penn Foster currently works with hundreds of leading employers to meet their unique organizational needs.

Learn More
Small Business Management Program Tuition
Take the first steps toward a new career with our online Small Business Management Program. Simply choose from one of our low-cost customized payment plans below and get started today!
Cost of Program
Best price. Best value.
Pay the full cost today
No monthly payments
Enroll Now
Cost of Program
Pay $59 per month
Start for $1 down
Credit card, PayPal, or ACH from bank account
Enroll Now
cost of program
Pay $59 per month
Start for $49 down
Mail your payment using coupon book
Enroll Now
Our Proven Business Management Learning Model
Empowering students to reach their professional goals
Flexible
Start anytime
No exam due dates
Self-paced
Interactive
Digital study guides
Self-check quizzes
Simulations and videos
Connected
24/7 access to online resources
Online student community
Student Portal Help Center
Supportive
Expert faculty
Dedicated student services
Robust learning resources
Small Business Management Program FAQs
What is small business management?
Small business management is a term for the set of skills you may need to successfully start or manage a business. Usually, a small business is classified as a privately owned corporation, partnership, or sole proprietorship that has less than five hundred employees. Businesses are defined as "small" in terms of being able to apply for government support and qualify for preferential tax policy depending on the country and industry.
What types of businesses can I start after taking this course?
After completing your small business courses, you'll have the foundational skills to run a successful business in a variety of industries. Depending on your interests and what you want to do, you can start a retail business, look into becoming a franchise owner, and more.
What will I learn in the small business management program?
In Penn Foster's accredited online Small Business Management Program, you'll cover fundamental business topics related to becoming your own boss. The program will teach you how to find the right sources to finance your business, market your products or service, and write an effective business plan.
How do I know if the Penn Foster Small Business Career Diploma is right for me?
If you're someone who wants to be an independent leader, has a knack for entrepreneurship and wants to be your own boss, the small business management classes could help you build the skills and knowledge that can get you started. Since the program is completely online, it can be right for students who have busy schedules and need flexible classes. Our programs are self-paced with no exam due dates, so you can start and finish when you're ready. Even better, you can do it all from home!
IAAP Student Membership
Students enrolled in the program can qualify for a student membership in the International Association of Administrative Professionals (IAAP). IAAP is a non-profit professional association serving the administrative profession and is dedicated to helping office and administrative professionals advance their career in a demanding and ever-changing business environment. For more information about the membership, or to enroll, view the full requirements on their site here.
On average, learners can complete their program in as few as 10 months. Faster learners, or those with more time to dedicate to their coursework, can finish in as little as 6 months. If you don't have lots of time to dedicate to your program, that's ok too! You can learn at the pace that works for you and your schedule.