Comprehensive English: Reading and Writing Skills
English Reading and Writing Certificate
If you've been looking to become a stronger reader and writer, our online Comprehensive English: Reading and Writing Skills Certificate can help you take the next step. In flexible, online English classes, you'll build or sharpen your grammar and communication skills on your schedule, from home!
Improve reading comprehension and learn how to write effectively.
Most jobs require some small amount of writing, whether that means being able to write a professional email or putting together comprehensive reports, so strengthening your skills can help you be more confident at work.
Our online programs are flexible enough for you to finish them at a pace that works for you, based on how much time you can dedicate to your coursework each week.
Cost of Program
$299
800-275-4410 (9AM - 9PM EST)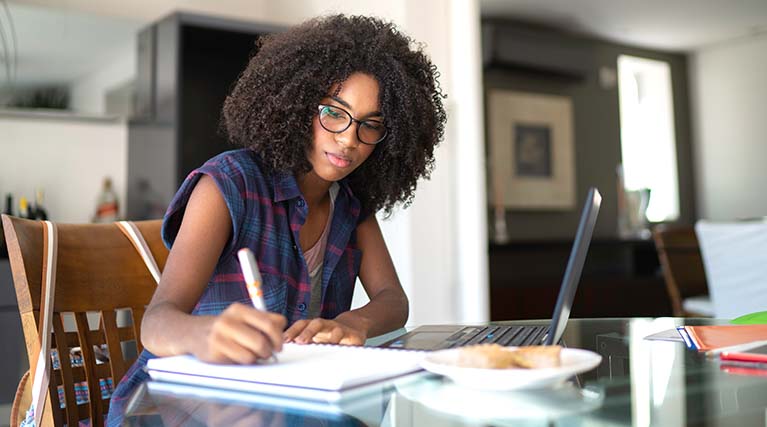 What You Will Learn
How to use reading techniques such as context and scanning to determine the meanings of unfamiliar words and information.
How to recognize elements of writing such as parts of speech and sentences, simile, metaphor, imagery, inference, bias, and the elements of fiction.
How to to write an effective essay using correct grammar and word usage, including how to properly cite sources.
How to understand the essentials of English grammar including nouns, verbs, adjectives, adverbs, pronouns, prepositions, and other parts of speech.
Full Program Goal & Outcomes
English Skills Career Outcomes

Many employers look for job applicants who have strong written and verbal communication skills. With Penn Foster's English: Comprehensive Skills in Reading and Writing Program, you can build and strengthen skills that can be an asset in a job or in furthering your education. However, completing online reading and writing classes alone won't necessarily qualify you for a job. Completion of this program may assist students who have previous academic or work-related experience improve their chances for promotion or entry-level employment.
State Licensing Requirements
Licensing and/or certification requirements for jobs in this field are not the same in every state and may include educational, testing, and/or experiential requirements beyond those offered in the Penn Foster Program. Prospective students should contact the state professional licensing board or similar regulatory body in the state(s) where they plan to work to determine their requirements before enrolling in this program. See the State Licensing page for contact information for state licensing/regulatory boards and certain industry licensing information.
English Skills Success Stories
Penn Foster's English: Comprehensive Skills in Reading and Writing Program can help prepare you to become a stronger reader and writer. Learn more about Penn Foster graduates' experiences and how Penn Foster worked for them.
View Student Success Stories
Angel H.
Penn Foster Graduate, 2021
"[Penn Foster] is affordable, flexible, and you can work at your own pace in the comfort of your own home."
Comprehensive English Skills Curriculum
3 courses
11 exams
21.5 continuing education units (CEUs)
3 submitted projects
Estimated completion time:
Fast track = 2 months
Average time = 6 months
With Penn Foster, you can learn at whatever pace works best for you. Some learners will be more comfortable moving faster, and dedicating more time, and the fast track estimate will apply to them. The average track will apply to most learners who can dedicate a few hours per week to completing their coursework.
In our Comprehensive Skills: Reading and Writing Skills Program, you'll take classes that will teach you reading skills, features of writing, and how to identify correct usage of words. The online English classes are designed to help you enhance your communication skills using correct grammar, writing complete sentences, and learning library research skills. Your classes include:
Reading Skills
Practical English
Written Communication
Show Full Curriculum
Looking for training in early childhood education for your workers?
Penn Foster currently works with hundreds of leading employers to meet their unique organizational needs.

Learn More
Comprehensive English Skills Certificate Tuition
Improve your confidence with our online English: Comprehensive Skills in Reading and Writing Program. With affordable tuition, you can get started when you're ready.
Cost of Program
Pay the full cost upfront
No monthly payments
Credit card, PayPal, or ACH from bank account
Enroll Now
Need more info or ready to enroll?
Looking for more information on transfer credits, military benefits, or our refund policy? Find this information and more about tuition and enrollment here.
Tuition & Payment Options
Our Proven English Skills Learning Model
Empowering students to reach their professional goals
Flexible
Start anytime
No exam due dates
Self-paced
Interactive
Digital study guides
Self-check quizzes
Submitted projects
Connected
24/7 access to online resources
Online student community
Student Portal Help Center
Supportive
Expert faculty
Dedicated student services
Robust learning resources
Comprehensive English Skills Program FAQs
How do I become a writer without a degree?
Writers don't necessarily need to earn a degree. Many learn how to write through reading and experience. Depending on the type of writer you want to be, you may need to take classes or even earn a degree to qualify for a job in areas like marketing or communication. However, if you want to become a freelance writer or author, strong reading and writing skills can help you get there.
Can you really learn to read and write in English online?
Our online English classes can help those who aren't confident in their grammar, reading, and writing skills to improve how they read and write. It isn't intended to be an English as a second language learning program. Through studying the essentials of English language and grammar, completing quizzes, and writing essays, you can become a stronger reader and writer online.
How can I improve my English speaking and writing?
Like any skill, reading and writing well is improved through regular practice. If you're looking to improve your speaking and writing skills, it's important to try to read often, whether that's a newspaper or a novel. Additionally, it can be helpful to regularly quiz yourself on what you learn and use tools like Grammarly to reinforce your reading and writing knowledge.
How long will it take to complete the comprehensive reading and writing course?
Our online comprehensive reading and writing classes are online and self-paced, meaning you can complete them at the speed that works best for you! However, many students often finish the program in 8 to 12 months.
On average, learners can complete their program in as few as 6 months. Faster learners, or those with more time to dedicate to their coursework, can finish in as little as 2 months. If you don't have lots of time to dedicate to your program, that's ok too! You can learn at the pace that works for you and your schedule.