Medical Terminology
Medical Terminology Courses
Medical terminology is essential in any healthcare position - from administrative jobs to direct patient care roles. Learn new skills or refresh your terminology knowledge with our flexible, online medical terminology course.
Nationally accredited through the Distance Education Accrediting Commission (DEAC).
Our online programs are flexible enough for you to finish them at a pace that works for you, based on how much time you can dedicate to your coursework each week.
Cost of Program
$324
$399 Save $75
or
$50/month, Start for as low as $29
800-275-4410 (10AM - 6:30PM EST)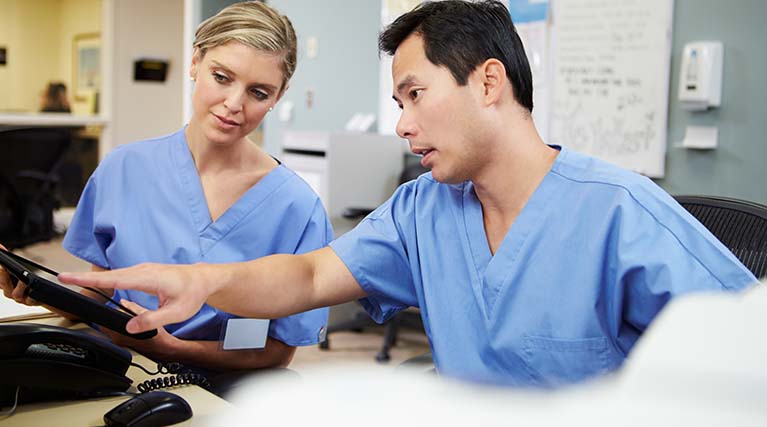 What You Will Learn
How to recognize word construction and meanings that are fundamental to commonly used medical language.
What terminology is used in diagnostics, including body structures.
How to distinguish the medical terms related to the musculoskeletal, circulatory, and respiratory systems.
How to distinguish the medical terms related to digestive, nervous, and reproductive systems, by their component parts.
Full Program Goal & Outcomes
Medical Terminology Certificate Outcomes 

Developing an understanding of important medical terminology can be useful for anyone interested in a career in healthcare. Earning a certificate online can also help strengthen your resume when applying for jobs in the healthcare industry.

State Licensing Requirements
Licensing and/or certification requirements for jobs in this field are not the same in every state and may include educational, testing, and/or experiential requirements beyond those offered in the Penn Foster Program. Prospective students should contact the state professional licensing board or similar regulatory body in the state(s) where they plan to work to determine their requirements before enrolling in this program. See the State Licensing page for contact information for state licensing/regulatory boards and certain industry licensing information. Please review your state board requirements that are applicable to your field of study. State boards may impose a variety of different requirements.
Medical Terminology Success Stories 
Penn Foster graduates have been able to strengthen their resume, refresh current skills, and learn new ones through our online Medical Terminology courses. Learn more about their experience with Penn Foster.
View Student Success Stories
Adriana G.
Penn Foster Graduate, 2021
"I feel with Penn Foster you can accomplish anything you want to. With their career programs or high school program, they will lead you on the path to success for your future careers."
Medical Terminology Course Curriculum
2 courses
16.3 Continuing Education Units (CEUs)
10 exams
Estimated completion time:
Fast track = 2 months
Average time = 3 months
With Penn Foster, you can learn at whatever pace works best for you. Some learners will be more comfortable moving faster, and dedicating more time, and the fast track estimate will apply to them. The average track will apply to most learners who can dedicate a few hours per week to completing their coursework.
Penn Foster's online Medical Terminology courses cover fundamental topics such as word construction and meanings that characterize medical language, terms for pharmacology, oncology, radiology, and more. Your medical terminology classes include:
The Fundamentals of Medical Terminology
Diagnosis, Intervention, and Human Body Terms
Musculoskeletal, Circulatory, and Respiratory Systems Terms
Integumentary, Nervous, and Endocrine System Terms
Show Full Curriculum
Looking for healthcare training for your workers?
Penn Foster currently works with hundreds of leading employers to meet their unique organizational needs.

Learn More
Medical Terminology Certificate Tuition
Take the first steps toward advancing your career with our Medical Terminology Certificate Program. Simply choose from one of our customized payment plans below and get started today!

Cost of Program
Best price. Best value.
Pay the full cost today
No monthly payments
Enroll Now
Cost of Program
Pay $50 per month
Start for $29 down
Credit card, PayPal, or ACH from bank account
Enroll Now
Need more info or ready to enroll?
Looking for more information on transfer credits, military benefits, or our refund policy? Find this information and more about tuition and enrollment here.
Tuition & Payment Options
Our Proven Healthcare Learning Model
Empowering students to reach their professional goals

Flexible
Start any time
No exam due dates
Self-paced
Interactive
Digital study guides
Self-check quizzes
Practical exercises
Connected
24/7 access to online resources
Connect with students and alumni in our Penn Foster Group
Engaging online student community
Supportive
Expert faculty
Dedicated student services
Robust learning resources
Medical Terminology Courses FAQs
What is medical terminology?
Medical terminology is the language commonly used in healthcare to precisely describe human anatomy, typical conditions, potential diagnoses, and more.
Why should I take medical terminology courses?
An understanding of medical terminology is important when working in the healthcare industry. If you're interested in starting a career in the field, whether it's in administration or working directly with patients, having foundational terminology knowledge can help you confidently take the next steps toward furthering your education.
How long does it take to complete medical terminology courses?
Penn Foster's online Medical Terminology Program is self-paced, so students can complete the course on the timeline that works for them. However, on average, most students complete the program within 1 to 5 months.
How do I study medical terminology?
By learning medical terminology online through an organized course, you can build the study skills to go beyond just memorizing the words and what they mean. Through understanding the breakdown of prefixes and applying what you learn in terminology challenge games, you can prepare to better retain the information you learn in the long-term.
On average, learners can complete their program in as few as 3 months. Faster learners, or those with more time to dedicate to their coursework, can finish in as little as 2 months. If you don't have lots of time to dedicate to your program, that's ok too! You can learn at the pace that works for you and your schedule.