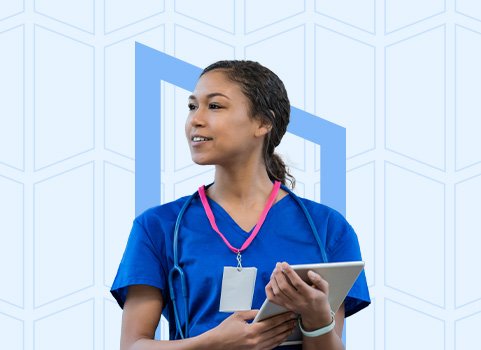 Healthcare
Career Advice
Top Allied Health Careers
An effective healthcare team is made up of doctors, nurses, and a range of allied health care providers. From physical therapists to medical assistants, allied health professionals deliver essential services to meet the healthcare needs of patients, while supporting doctors and nurses. With the healthcare industry booming, many allied health workers are needed to make sure that every patient gets quality care. And you can help. Learn more about the best allied health jobs, what allied health careers are in-demand, and find out which is right for you!
What is allied health?
Allied health is a term used for the jobs and professionals in healthcare who have duties that are very different from the roles and responsibilities of doctors and nurses. Allied health professionals can work in both patient-facing and administrative healthcare jobs.
Depending on the specific job, someone in allied health can work to identify, evaluate, and treat diseases and disorders. Others provide essential services like healthcare administration, health systems management, and records management across individual, family, and community health.
Allied health is a high-demand industry due to a rise in the overall demand for healthcare. This rise is caused in part by the aging population and partly because many experienced professionals are reaching retirement age.
But even though we need healthcare workers more than ever, there's a shortage of skilled healthcare workers in both clinical and administrative roles. In fact, 85% of healthcare facilities are facing a shortage of allied health workers and struggling to fill open jobs in positions from physical therapist to lab tech.
Besides offering higher pay, sign-on bonuses, and other hiring incentives, many healthcare facilities are also looking to recent graduates of allied health training programs to fill the gaps. This means that now is a great time to consider going back to school to prepare for a rewarding, in-demand career in healthcare.
Top 6 CAREERS IN ALLIED HEALTH
There are many career path options in allied health, including jobs that involve working directly with patients and jobs that are more focused on the administrative side of healthcare. Here are just a few you can choose from.
1. Medical assistant
Medical assistants support physicians, hospitals, and other healthcare facilities by completing administrative and clinical tasks. This versatile career is in high demand with an expected job growth of 16% over the next decade. It can also offer a good entry-level salary, with the average medical assistant earning $37,190 per year, or $17.88 per hour.
Becoming a medical assistant can be a great career for someone who wants to work directly with patients but doesn't necessarily want to be a nurse or doctor and spend long years in school. Most medical assistant training programs can be completed relatively quickly – anywhere from 9 months to 2 years, depending on the type of training program you choose - and involve both academic and hands-on, clinical education.
In order to take the first steps toward a medical assistant career, you'll need to have a high school diploma or equivalent. From there, you can either try to find a job that will provide training or pursue a training program to teach you the skills you'll need. However, most employers usually prefer to hire medical assistants who have formal training over those who don't. You can also pursue certification, which isn't required to work in the field, but can be a great way to stand out to employers and potentially qualify for a higher salary.
Lysha Sorensen, a Penn Foster Medical Assistant Degree graduate, had a lot of experience in the administrative side of healthcare and was working as a medical scribe but wanted to step into a more clinical role.
"The doctor I worked for was the one who got me to go to medical assistant school and [after graduating] I was able to jump right into the field, be a medical assistant, and felt like I knew what I was doing," she said. "I felt like I had the education, the knowledge, to do everything I needed to do."
Read more: Medical Assistant vs Medical Office Administrator: What's the Difference?
2. Occupational therapy aide
Occupational therapy aides enhance the quality of life for patients by improving their movement and ability to perform everyday tasks. As an occupational therapy aide, you'll have the opportunity to provide direct treatment to patients and perform administrative duties.
The job outlook for occupational therapy aides and assistants is expected to grow 25% by 2031, meaning that there will be plenty of opportunities to find an entry-level job in the field.
Becoming an occupational therapy aide is a great career path for someone who wants to have a healthcare job that balances working with patients and administrative work. Entry-level occupational therapy aides earn an average of $33,560 per year and need a high school diploma or equivalent at minimum to qualify for the job. While formal education may not be required to get a job, it can help you stand out to employers and prepares you for the skills that can help you be successful on the job.
3. Pharmacy technician
Certified pharmacy technicians support pharmacists to prepare medications and answer patient questions. Pharmacy technicians can work in retail pharmacies, hospitals, or nursing or assisted living centers. With more people depending on regular medication to stay healthy and treat chronic diseases, skilled pharmacy technicians will be needed to help pharmacists meet the needs of patients. This is a very patient-facing role that involves customer service skills, so it can be a great job for people who want to work with others on a daily basis.
To become a pharmacy technician, you'll need at least a high school diploma or equivalent. Some states require that pharmacy technicians are certified before they are allowed to work. To become certified, you'll also need to attend an accredited pharmacy technician school and pass the Pharmacy Technician Certification Exam (PTCE).
Even if your state doesn't require formal education and certification to work as a pharmacy technician, completing training in a recognized pharmacy school can make a difference to employers when you're applying for jobs.
Michelle Rainwater, who graduated from Penn Foster's ASHP-accredited Pharmacy Technician Career Diploma, become a certified tech and found a job at her local CVS.
"They believed in me because of my education," Michelle said in a podcast interview. "They saw that I dedicated myself to Penn Foster and that was a big thing for them, that I was educated."
Read more: 10 Reasons to Become a Pharmacy Technician (Infographic)
4. Dental assistant
Dental assistants are responsible for many tasks in the dentist's office. They most often focus on the administrative side of the practice, scheduling patient appointments and processing billing and insurance information. Dental assistants may also be responsible for cleaning and sterilizing equipment and exam rooms, as well as preparing exam rooms and patients for appointments. The demand for dental assistants is expected to grow 8% in the next few years. In some states, dental assistants can earn on average over $50,000 a year.
To become a dental assistant, you'll need a high school diploma or equivalent. From there, you may also need to complete an accredited dental assistant training program. Depending on the state you live and work in, you may also need to be certified to qualify to work in the field.
Not all states require dental assistants to have formal training or certification, so it may be possible to get an entry-level position without any education beyond high school. However, even in states that don't require it, those who have earned a diploma or certificate in dental assisting are likely to stand out more to employers or qualify for promotions.
Eiliana Garcia, a 2015 Penn Foster Dental Assistant graduate, was able to start her career without formal training, but knew she wanted to have more opportunities and earn a higher salary. To do that, she knew she'd have to go back to school and get certified.
"Once I completed the program," she said in a 2021 Alumni Spotlight Podcast interview, "I brought it to my boss. They were super excited for me. They gave me a promotion. I was now no longer just the, you know, general chairside assistant. I was the head dental assistant in that office. I got a pay raise and I had an actual title."
Read more: 8 Online Degrees That Pay Well and You Can Start Today
5. Physical therapy aide
Under the supervision of a physical therapist, physical therapy aides help patients manage pain and retain movement as they recover from injury or illness. Physical therapy aides work in hospitals and clinics, schools and nursing homes, sports medicine centers, and many other places. The demand for therapy aides is expected to grow by 24% over the next decade, meaning there will be plenty of opportunities to find a job you love in the field!
You usually need a high school diploma or equivalent to become a physical therapy aide. From there, you can get on-the-job training if you're hired at a physical therapy practice. Formal education, certification, and licensing are generally not required to work in the field, though these requirements can vary by state.
Whether education is required or not, going to school to earn a diploma as a physical therapy aide can potentially help you boost your resume and open more doors to the healthcare field. It can also help you stand out to employers, who may prefer to hire those who have learned the basic skills you need for the job over someone who doesn't have education or experience in the field.
Read more: What is the Right Healthcare Job for Me?
6. Medical billing and coding
Medical billers and coders are essential in healthcare. They translate the processes and procedures patients receive into codes that are then used to properly and accurately bill patients and insurance companies. It's a great job for someone who wants to work behind the scenes of healthcare, with the option to work remotely. With projected growth in demand of 7% over the next decade, now could be the perfect time to take the first steps toward a new career in the medical field.
To become a medical billing and coding professional, you'll need to have a high school diploma or equivalent and specialized training. Most often, you'll take a medical billing and coding program that covers the essentials, from medical terminology to current codes and coding practices. You may also want to pursue certification, which can show potential employers that you have the skills they need and may help you earn a higher salary. On average, entry-level medical records specialists like billers and coders earned $46,660 per year in 2021.
Read More: Meet Medical Billing & Coding Instructor Diana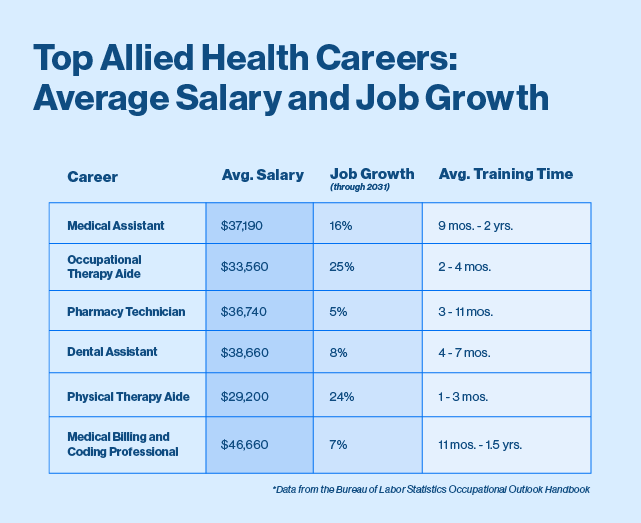 Upskill to get a promotion, earn a raise, or change jobs
For professionals already working in allied health, certificate programs can help sharpen your skills and increase your opportunity to earn a promotion, a raise, or even change your job.
If you haven't worked in healthcare before, or need a refresher course, you can build a strong foundation in allied health with a Medical Terminology Certificate. You'll learn to analyze and interpret medical reports while building your medical vocabulary. It's a great first step toward any allied health career as an understanding of common terminology is essential to success in most roles.
Kathy Walker, who was working as an academic services coordinator for the University of Memphis, wanted to take her career to the next level, teach a course, and prepare for a promotion. That meant learning more and a medical terminology certificate from Penn Foster was the right fit for her. After earning her certificate, she was able to go on to reach her goals, teach some courses, and take the next steps in her career, earning the promotion she wanted!
"So I finished the credential, and they allowed me to teach a course to see how it went for the fall term," Kathy said in a podcast interview about her online education experience. "So that went well, and because that went well, I had the opportunity next year to teach two courses. And I got a promotion from academic coordinator to assistant director."
Even when you're working for an employer you love, like Kathy, earning additional credentials and building new skills can help you take things to the next level, whether that means a promotion or an entirely new career.
You can prepare to make a move in your career by taking online certificate courses – most of which can be completed in less than 2 months – to add credentials to your resume or by taking your education further with career training or degrees. Even when you're not entirely sure what your career goals are, learning more and strengthening your resume can help you stand out from other job applicants when you're exploring your options!
Prepare for a new career with online allied health courses
If a career in healthcare sounds like a great option for you, there's no better time than now to take the next step to reach your goal. With healthcare jobs in demand and in need of skilled employees, there are plenty of job opportunities available! You can make sure you build the skills and knowledge that can help you be successful in an allied health job, online and around your schedule, with Penn Foster.
Through Penn Foster's online healthcare programs, you'll get online access to learning materials, so you can study when and where you want. Plus, you'll get the support of certified instructors, support staff, and a vibrant student community.
To learn more about Penn Foster's Allied Health Programs or enroll in the program that can help you prepare to reach your career goals, reach out to our Admissions Specialists at 1-888-427-6500!