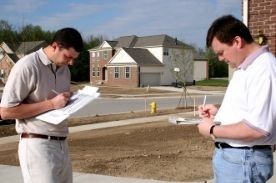 If you're interested in becoming a professional home inspector, you may have questions about what steps you need to take in order to get started on your career path. Diving into the skilled trades industry can pose some questions about training requirements, because unlike other industries where you are required to have specific degrees from a college or university in order to begin working, home inspectors - while they may need training to help them prepare and get started - aren't always provided with a straightforward educational or degree path to follow. So if home inspection is a career path you're interested in following but you're not sure where to begin, the following guide can provide some concrete steps you can take to get there.
How to become a home inspector




Learn more about Penn Foster's online home inspector training
Now is a great time to start training for a career as a professional home inspector. There are a lot of growing opportunities for home inspectors, such as working for inspection, foreclosure, insurance or real estate agencies, or working independently for contracting and inspection services. Not only that, the Bureau of Labor Statistics is currently reporting an average annual salary for construction and building inspectors as $60,710.
If this is a career path that seems right for you and you're currently looking for training, Penn Foster offers an online training program for home inspectors that you can complete at your own pace. To learn more about home inspection training programs like this, or to find out how you can get started, reach out to our Admissions Specialists at 1-888-427-6500.