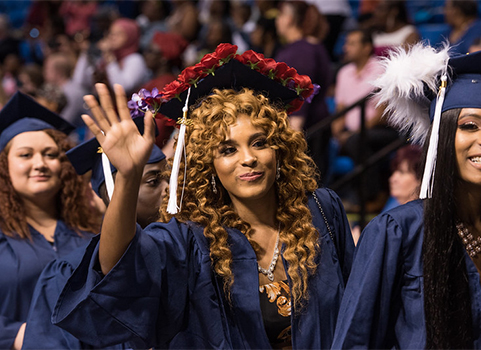 Online Learning
19 Things You Can Do to Prepare for Graduation
Graduating from your online program is something that should be celebrated. Whether you've finished your high school diploma, gained new skills and knowledge in a career diploma program, or taken the first step toward your dream job by completing an associate or bachelor's degree, you've done something big! Here are 19 things you can do to prepare to celebrate your success with Penn Foster.
Graduation Tips
Graduating from your online program is something that should be celebrated. Whether you've finished your high school diploma, gained new skills and knowledge in a career diploma program, or taken the first step toward your dream job by completing an associate or bachelor's degree, you've done something big! You're proud, excited, and ready. What better way to celebrate your accomplishments than walking the stage at the 2019 Penn Foster graduation ceremony? Make sure you're ready for the celebration on June 1, 2019 at Mohegan Sun Arena in Wilkes-Barre, PA, with these 19 things you can do to prepare.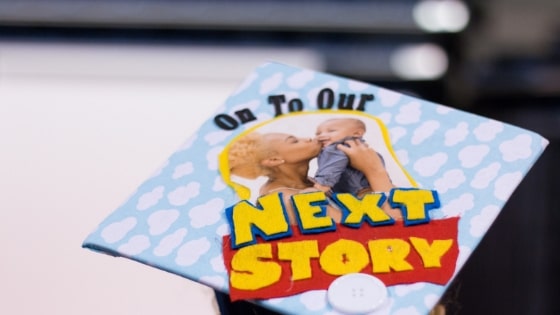 Finish and pass any remaining lessons and exams by May 1st. To be eligible to walk the stage in June, graduates must be academically complete. That means all exams, projects, and papers are submitted, graded, and earned passing scores. If you're not sure you're eligible, call our Student Advocates at 1.888.427.1000.
Register and purchase your graduate ticket. Graduates need to register so their name can be called during the ceremony, and a ticket must be purchased to participate. Tickets are $37.50 and include a diploma holder and tassel you'll receive at the event. Tickets MUST be purchased by May 1, 2019.
Don't forget your cap and gown. You're not required to wear a cap and gown to participate in the ceremony, but it is recommended.
Invite your friends and family to cheer you on. Your family and friends are proud of you and the hard work you put in to reach this milestone. They won't want to miss celebrating this accomplishment with you! There's no limit to how many guests each graduate can have, so you can invite everyone who's supported you along the way. Guest tickets are $18.00. Get them now so you don't run into any issues day of.
If you've got a long way to travel, reserve a hotel room as soon as possible. There are several places you can stay during your visit to Wilkes-Barre, PA. Make sure you have a place to rest and relax after (or before) the big day! We put together a list of some recommended places in the area, and a few even have a discount available for Penn Foster graduates.
Make sure you're familiar with the venue's security policies. Mohegan Sun Arena is a large venue that hosts hockey games, concerts, conventions, and more. To keep everyone safe, they've updated their policies on what is and isn't allowed in the building. That includes no bags inside the building, including purses, diaper bags, or tote bags. If you need to bring a small bag, make sure it's clear and follows the rules Mohegan Sun has included on their website, linked above!
Plan to get to graduation no later than 1:00 PM on June 1st. The graduation ceremony will start promptly at 2:00 PM, so all graduates should arrive no later than 1:00 PM to register, receive their tassel, and prepare to walk the stage. If you come earlier, you'll have the opportunity to take photos, meet Penn Foster instructors, and fellow grads!
Remember to be proud of what you've achieved. Whether you're an adult who just finished their high school diploma, or someone who's worked hard to finish their college degree around a busy schedule full of work, family, and life in general, you've done something pretty amazing. You took charge of your future and your career, and that's something to talk about. Share your accomplishment on social media, tag us, and use the hashtag #PFgrad2019 so we can cheer you on.
Decorate your grad cap! Get creative and have something you can keep as a reminder of the big day. Graduates are allowed and even encouraged to decorate their caps. You can check out our board on Pinterest for inspiration from last year. We can't wait to see what you come up with!
Check out the photos from our 2018 Graduation to get pumped for June. We're less than two months away from the big day, so get your excitement up by checking out the great time we had last year.
Pack your comfortable shoes. There will be some time when you're standing on concrete floors preparing for the procession. It's not required, but it is suggested you wear comfortable shoes to avoid aching feet!
Get a feel for what the ceremony is like by checking out the livestream of the 2018 ceremony on Facebook. Want to know what to expect? You can watch the whole ceremony from start to finish. We livestream the graduation every year, so if you have friends or family who can't make it, they can follow us on Facebook and watch you walk to stage from home.
Share pictures of your diploma or degree on social media! We love to see our graduates celebrating their successes. When you receive your diploma or degree in the mail, take a clear, unfiltered photo and post it on Facebook, Instagram, or Twitter with the hashtag #PFgrad2019 #PFProud for the chance to have a shoutout on one of our pages!
Get noticed by sharing your graduate story. We want to know your story and experiences with your Penn Foster program. Tell us a bit about you, your career path, and how your diploma or degree will help you take the next step toward reaching your goals! Fill out an Alumni testimonial form to share your journey toward graduation. Your story could help future and current students stay motivated to graduate, too
Inspire potential and current students. Sign up to be a guest on our Alumni Spotlight Podcast. You'll be able to tell your story and give advice to others about your program, career path, and more. Check out the latest episode on SoundCloud.
Get ready for your close-up! At graduation, you want to capture memories of your big day with family, friends, and other students. There will be photographers taking pictures throughout the event, so make sure you have your biggest smile ready when you walk across the stage.
Prepare for career success by checking out the 2019 Student Success and Career Fair. Starting April 15th, this week long webinar fair includes helpful interview, resume, and job search tips!
Update your resume and LinkedIn. Prepare for your post-graduation job search by making sure your resume, cover letter, and LinkedIn profile have your up-to-date information. *Graduation candidates may have non-academic requirements to fulfill before being fully recognized as a Penn Foster graduate. You should wait until after you've received your official Penn Foster diploma or certificate before updating your job applicant documents.
Plan your celebration at home. We'll miss celebrating with you live, but besides tuning in to the livestream of the ceremony on June 1st, you can celebrate at home with everyone who supported you. Make sure to post your photos on Instagram and tag us @pennfoster so we can give you a shout out for all your hard work!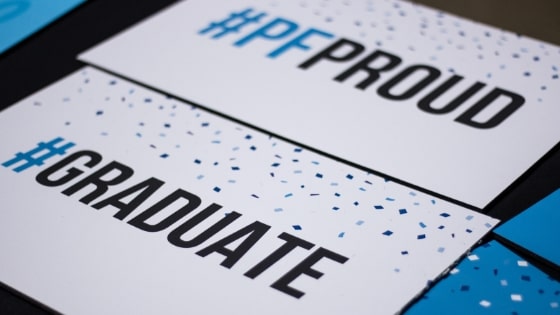 You worked hard to make it to graduation, whether or not you're able to attend the ceremony this year. You deserve to be proud of your accomplishments! Graduates of any year are always welcome at our ceremony here in Pennsylvania, so if you can't attend this year, start planning for 2020!