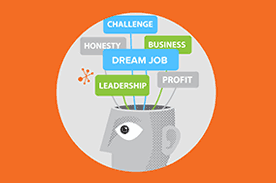 Have you recently finished school and thought, "What next?" Or are you just starting your degree coursework and thinking, "how can this get me a job?" Most of us pursue a high school diploma, college degree, or career-related certifications with the goal of getting a job or being promoted in the job we currently have. Pursuing more education and training will look good on your resume, but that's not the only thing employers look for during the hiring process. They're also looking for candidates that display "soft skills" - skills that aren't often learned in a classroom. This is where Penn Foster's new program, Career Readiness Bootcamp, comes in!
In the Career Readiness Bootcamp, you learn the skills that can help you become career ready right out of the gate. If it's your first job, or your lifelong career, the Bootcamp is a short, self-paced, online course that walks you through the everyday skills necessary for the workplace. From a personal skills section to refresh your people skills and further develop your ability to work in a team-oriented position to a section that helps you become a more organized professional, the Bootcamp gives you what you need to succeed. It will also be a great addition to your resume, displaying your willingness to seek further training to any potential new employer.
To learn more about the new program and how it can boost your career success, check out the curriculum breakdown!