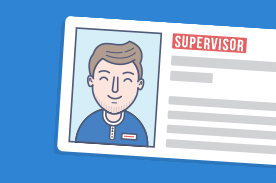 A four year college isn't for everyone, but many end up pursuing an unwanted Bachelor's degree because they want a chance to have a steady and satisfying career. But not every opportunity requires a college degree! If you've wanted to take on more responsibility, lead an efficient team, and work closely with coworkers and customers, a career as a Retail Supervisor may be a step in the right direction for you! Not sure what you need to do to become one? Check out the steps below and get started on your future.
Get experience. If you haven't worked in the retail industry before, getting some experience can be crucial to moving up in the field. It's not required at every retail store, of course, but experience doesn't hurt, even if it was making coffee on weekends for spending money when you were in high school. Haven't had direct retail experience? Anything you've done before that is customer service related will be a plus on your resume. The most difficult part of working in retail isn't learning the rules, regulations, and register at a new store; it's knowing how to handle all kinds of people, whether they're sweet or rude. A strong customer service background and a desire to learn are the foundation of a great Retail Supervisor.
Brush up on your soft skills. Soft skills are an asset in almost every field! You'll be mentally prepared for a career if you're confident in your ability to work with others, adapt to new schedules and be flexible when problems arise. To become a Retail Supervisor, you need to have the ability to be cool under pressure and possess great conflict resolution skills. Besides demonstrating excellent customer service skills, developed soft skills will help you when you're managing a team, creating schedules, or dealing with a last minute crisis.
Work hard. In the retail industry, degrees only get you so far. If you haven't demonstrated that you're willing to work hard and prove yourself, you won't have the easiest path (or any path, really) to management or supervisory roles. Be on time, be dependable, be will to go the extra mile. More than asking for a promotion or applying for an open position, actively demonstrating that you're passionate and hardworking will get you noticed. Display your desire to be an asset to your store and you'll see more opportunity to make an impact and move up in the field.
Get training. Even if you've worked in retail for ten years, you'll still go through detailed training if you're offered a promotion. Paperwork, processes, and how to work with people are all important pieces of the puzzle when learning to be an excellent Supervisor. You can also take your future into your hands and train with an online Retail Supervisor course. Without interrupting your work schedule, you're able to learn the crucial details and skills that can help you meet your goals.
If you're interested in working in a fast-paced, people and detail-oriented profession, becoming a Retail Supervisor may be the right step for you! Take some time to research the opportunities in your area, discover what a retail supervisor does on a regular basis, and get started on a satisfying and worthwhile career!