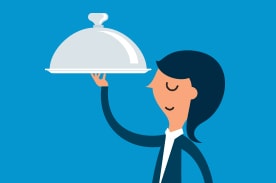 If you've worked in the food and service industries, you know how important food safety is to your company and your customers. Think about it: when you go to a restaurant or coffee shop, you want to know that the person handling your food and drink is doing it correctly to prevent the spread of germs. You also want to trust that the food is being stored at the proper temperatures so that you don't become sick from something spoiled. One bad review or case of food poisoning can damage the reputation of a restaurant. So how can restaurants ensure that every person on staff who may handle food or beverages knows how to do so? The easiest way is through training, testing, and certification.
Most restaurants and coffee shops have their ServSafe certificates posted somewhere visible to guests; it's an important part of the onboarding process for new hires in food services. Since it's so important, having ServSafe Certification on your resume can put you ahead of the pack when applying for positions in the food industry. If you've been interested in pursuing a career in the hospitality and food industry, the following career programs can help you take the next step to realizing your goals as well as help you understand the importance of getting your ServSafe Certification!
ServSafe Certification is so essential to certain workplaces that many employers in the hospitality and food industries require an employee to take and pass the exam within a certain time frame after being hired. Besides ensuring that you understand food safety and quality control measures, having the ServSafe certificate with your name on it posted on the wall of your workplace will make others feel more confident about your store or restaurant, which can help lead to a successful career for you!