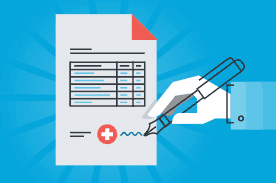 Medical billing and coding was one of the fastest growing healthcare professions of 2016 – and it shows no signs of slowing down in 2017.* Over the past year, we discussed medical billing and coding topics ranging from study tips to the different certification exams and much more. Take a look at some of our most popular medical billing and coding posts of 2016, and learn all about this in-demand career field.
Study Tips to Help You Memorize Medical Terminology
Memorizing the depth and breadth of medical terminology can seem like a daunting task for any medical billing and coding student. In this blog post, we highlight various study strategies and resources that can help students learn and retain even the most complex medical terms. From "old-fashioned" reference books to digital tutorials and mobile apps, there are plenty of creative and effective ways to tackle memorizing medical billing and coding terminology.
How To Stay Ahead of Medical Billing and Coding Changes
New technology and coding systems are changing the way medical billing and coding professionals perform their jobs. In this blog post, we explore the new ICD-10 coding system introduced in 2015, how to navigate electronic health records, and ways that professionals can keep pace with these and other changes. Both current and aspiring medical billing and coding professionals can benefit from this quick read.
Which Medical Coding & Billing Certification Exam Should You Take?
Earning a medical coding and billing certification opens up many doors, but which certification is the best? In this blog post, we analyze three of the most common certifications - the CPC, CBCS, and CCA - including exam requirements, topics covered, potential work environments, and more. We compare the three and help readers pick the certification that best aligns with their medical coding and billing career goals.
On the Student Life Blog, we're frequently sharing industry information, program opportunities, and all the facts about the medical billing and coding industry. Check back often for all you need to get started, get going, and get your medical billing and coding career in motion!