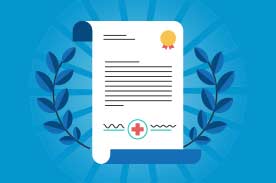 Originally Published on AccreditedSchoolsOnline.org
While it is possible to pursue careers in medical billing and coding without professional certifications, certification shows that a person has been properly trained and has the knowledge and skills needed to be a proficient medical coder or biller. Here are some top reasons to get certified:
Higher earnings: According to American Academy of Professional Coders (AAPC) salary reports, Certified Professional Coders (CPC) earn 20 percent more than their noncertified counterparts.
Greater employability: Although the medical coding and billing field is growing faster than average with a 15 percent project growth by 2024, it is a competitive market. Most employers look for professionals who have at least one certification or who can get certified shortly after hire.
Opportunities for advancement: Becoming certified, especially in multiple coding specialties, allows professionals to move into new job positions more easily and shows employers a dedication to continuing education and the field as a whole. This display of dedication pays off. In fact, in 2015, AAPC members with two or more certifications earned 24.5 percent more than those with one certification. Members with three or more certifications earned nearly 40 percent more than those with only one.
Professional connections: While becoming a member of certification-granting organizations is not always necessary to become certified, membership does open up connections to other medical coding and billing professionals. Connecting with individuals and groups who understand and value professional certifications and education can lead to a variety of opportunities.
Personal growth: The benefits that come with passing a certification exam are not just for potential employers. Certified individuals can feel confident in the accuracy of their work, and training for certifications can lead to new knowledge and growth as a professional.
Governing Bodies That Grant Certification
Two main bodies grant certifications in medical billing and coding: the American Academy of Professional Coders (AAPC) and the American Health Information Management Association (AHIMA). Both organizations offer credentials that showcase specific skill sets, so it is important for professionals to understand the certifications offered by each when choosing certification exams.
AAPC
Originally founded with the goal of raising outpatient medical coding standards, AAPC has since expanded its training and certification to cover all aspects of the business side of health care. Certifications are offered in medical billing, medical coding, auditing, medical documentation, compliance and practice management. An annual membership costs $150, but students with proof of active student status can get a membership for $80 per year. Qualifying students are enrolled in at least one field-related course and have not yet received any AAPC certifications. Certification exam costs vary, but most tend to be around $300-$400 with one opportunity to retake each exam. AAPC also offers continuing education units, which are required to maintain certification and ensure professionals stay up to date in the field. Webinars, workshops, courses, conferences and local chapters all provide continuing education to AAPC members.
AHIMA
Focused on certifications for those who practice health information and informatics, AHIMA-granted credentials tend to be geared less toward business elements and more toward the effective and efficient management of health care records in various settings. A standard membership costs $175 per year, but memberships are available at reduced prices for students ($45 per year), recent graduates ($100 per year) and members 65 years and older ($60 per year). Members can take certification exams at discounted rates. Core exams cost $399 for non-members and $299 for members, and specialty exams cost $329 for non-members and $259 for members. Along with two certifications specific to health information, AHIMA offers three coding and four specialty certifications. Continuing education quizzes, online education, virtual labs and in-person courses allow medical billing and coding professionals to maintain certification and stay current in the field.