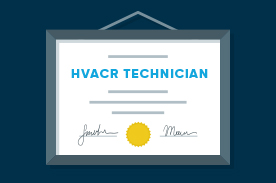 Originally Published on AccreditedSchoolsOnline.org
Due to the toxic and volatile nature of the materials and systems that HVAC technicians work with, there are some certifications beyond basic HVAC training that are either required or strongly encouraged for professionals to enter the field. Some are specific to states or federal law in the handling and disposal of dangerous materials, while others focus on honing skills that will make the holder a more competent and qualified professional.
EPA Certified A/C & Refrigeration Technician
The U.S. Environmental Protection Agency requires that all individuals who handle refrigerants be certified. This not only allows the holder to legally buy refrigerants, but it also gives the necessary credential needed to service any building air conditioning and refrigeration systems. There are three specializations for this exam: small appliances, high-pressure refrigerants and low-pressure refrigerants. Any technicians applying for this certification must choose one. Refer to the EPA's website on A/C and refrigeration technician certification for details. More information about certified providers of the exam can be found here.
Industry Competency Exams (ICE)
Provided by North American Technician Excellence, the ICE certification is a leader in measuring basic competency in the HVAC industry. This certification is geared toward HVAC professionals who have one year or less of experience. It measures baseline competency in residential, light commercial A/C and heating and commercial refrigeration. It is available to take both online and in-person.
Professional Level Certifications
The nonprofit organization HVAC Excellence offers a variety of optional certifications for different skill levels. The professional level certifications are for those with at least two years verified field experience and a passing grade on the core exam. It is only awarded to technicians that can pass both the prerequisite and closed book exams. These exams will test competency in a variety of areas that include, but not limited to heat pump service, gas heat, combustion analysis and light commercial refrigeration. For more information, visit the HVAC Excellence page on professional level certifications.