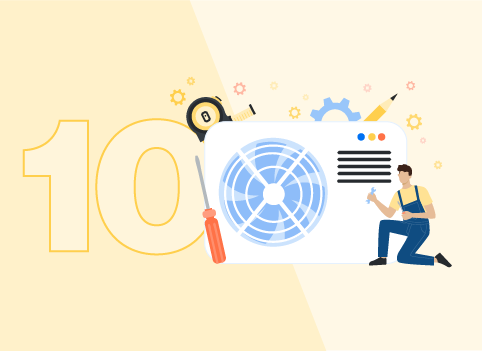 Skilled Trades and Industrial
10 Reasons to Become a HVAC Technician [Infographic]
If you are looking to become an HVAC Technician, you are looking at a high demand field. Learn more about the benefits of working in this growing field with Penn Foster Career School.
If you want a hands-on job that's in demand, becoming an HVACR technician could be the perfect role for you! But why is it a great field to get started in? Check out these 10 reasons you should become an HVACR tech.
1) The average salary of an HVAC tech
Becoming an HVACR technician comes with a strong starting salary! On average, an entry-level technician can earn around $50,590 per year. The salary for an HVAC technician can vary depending on your experience, your employer, and even where you live. Salary can range from $31,910 to $80,820, with some of the highest-paid technicians working for state or local governments.
2) HVAC jobs are on the rise
Becoming an HVACR technician can offer plenty of opportunities to find a job. According to the Bureau of Labor Statistics, there will be about 38,500 new jobs created in the industry each year for the next decade.
3) Career flexibility
As an HVAC tech, you'll have the opportunity to specialize in a particular skill or even start your own heating and ventilation company. You can specialize in things like
Installation
Maintenance
Refrigeration
Commercial HVAC
Oil heating
4) HVAC systems are everywhere
You'll have flexibility to work in a variety of settings as an HVACR tech! Since heating, air conditioning, and refrigeration are found in every home and commercial building, you'll be able to work almost anywhere!
5) Enjoy ever-changing projects
As an HVAC tech, you'll most likely work for a company or maintenance department being assigned different projects. Each day can bring something new, meaning you won't get bored by the work you do. One day, you may be tasked to work on installing or repairing a furnace, while the next you maybe be doing routine maintenance on commercial air conditioning systems.
6) Develop a diverse set of skills
In your HVAC Technician Training and work you can develop a diverse set of skills! Since you'll be working on a variety of systems for both cooling and heating purposes, you'll need to build a variety of repair and diagnostic skills. You'll also learn more about how to read and interpret blueprints and technical diagrams.
7) Help your community
HVACR technicians play a huge role in making sure the community and clients they work with have the heat or cooling systems they need to stay comfortable. This is especially important for elderly or sick customers who rely on their HVAC systems to maintain their health. As a tech, you'll make emergency calls to fix broken heating systems during frigid months or fix an air conditioning system during a sweltering summer day. Besides helping customers, you'll work with bigger clients like local schools or government buildings to make sure they're comfortable and safe for students and workers.
8) Opportunity for continued education
In this field, you'll have the opportunity to learn more and grow as an HVAC technician. With different projects, the rise in green and solar energy, and new systems being developed, there's always something more you could learn that can advance your career. Additionally, you can pursue a number of licenses and certifications that can help prepare for a promotion or to earn more money. Some credentials you can or need to add to your resume to become an HVACR technician include
EPA certification. A requirement to work in the field, you'll need to take and pass the EPA certification exam before beginning a career as an HVAC tech.
Industry Competency Exams (ICE). ICE exams measure your basic competency in the field and can be great for new technicians to prove to potential employers that they have the skills needed to be successful on the job.
9) Work with your hands
Careers in HVAC are a great option for people who enjoy working with their hands, trouble-shooting problems, and being regularly active throughout the workday. Most HVAC technicians won't spend much, if any, time sitting at a desk waiting for a project to be assigned to them.
10) HVAC job security
Besides nearly every home and commercial building having some kind of HVAC system, new HVAC technicians can also expect to have job security because of the number of current techs approaching retirement. Right now, the average age for HVAC technicians is 54, which means the need for techs can only be expected to skyrocket in the next decade.

Start your HVAC career with Penn Foster
If becoming an HVACR technician feels like the right career path for you, the next step is getting the training you need to help you prepare for success on the job. Through Penn Foster's online HVACR Technician Training Program, you'll build the essential skills and knowledge to be an HVAC tech on your schedule, from home. To learn more or get started, reach out to our Admissions Specialists at 1-888-427-6500!