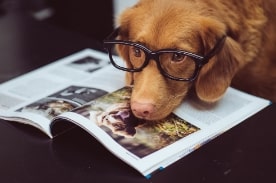 Take the next step in your veterinary technician education.
You're passionate about helping animals and working in the veterinary medicine field has been your dream for a while. You've looked into different programs, careers, and even volunteer opportunities to get your foot in the door. Whether you've just started a veterinary technician associate degree program or you've already passed your VTNE, it's a good time to think about what's next.
Is there room on your career path to move up after becoming a vet tech? Taking the next step in your education by completing a Veterinary Technology Bachelor of Applied Science Degree could be the right move for you.
What's the difference between a vet tech associate degree and a bachelor's degree in the long run? Here's everything you want to know about Penn Foster's Veterinary Technology Bachelor of Applied Science Degree.
What's the difference between starting a Veterinary Technician Associate Degree and enrolling in the Bachelor of Applied Science?
Penn Foster's AVMA-accredited Vet Tech Associate Degree is a four semester program that covers general education coursework and veterinary medicine essentials, including two externship requirements, that can help prepare students to sit for the Veterinary Technician National Exam (VTNE). The only prerequisites required to begin studying toward earning your associate degree is that you've completed high school.
The Veterinary Technology Bachelor of Applied Science Degree is a completion program. AVMA-accredited, the bachelor's program requires students to have already completed an associate degree with a minimum of 60 credits before enrolling. These credits need to include at least 15 semester hours of general education classes, like English Composition. Before being accepted into the program, students will need to send in their transcripts for review by Penn Foster College's Registrar to ensure you have the foundational education to set you up for success in the program.
Read more: The Difference Between a Vet Technician and a Vet Technologist
What does the Veterinary Technician Bachelor of Applied Science Degree cover?
If you're required to have earned an AVMA-accredited vet tech associate degree before moving forward with your bachelor's program, what else is there to learn? Aside from the credits you've earned in your previous coursework, which can be transferred into the Bachelor of Applied Science Degree Program, you'll cover core veterinary courses, clinical courses, and practice management courses. These courses will take a more in-depth look at the knowledge you've already gained and take it a step further. You'll take classes like Intro to Research in Vet Tech, Advanced Pharmacology, Advanced Diseases, and Emergency and Critical Care that can help you understand your patients better.
Why continue your education once you're a licensed veterinary technician?
The more you know, the more prepared you are to confidently tackle a career in the veterinary field. With updates and new information constantly informing the work veterinarians and vet techs do, furthering your education is never a waste of time. If you're interested in accelerating your career in the field, completing the Bachelor of Applied Science can be the next stepping stone.
Having a bachelor's degree, coupled with your experience in the field, can help boost your resume and qualify you to pursue jobs in the field that are beyond entry-level. You can take the next steps in a career you love and make the move toward a new chapter in biomedical research, military service, zoo and wildlife care, and more!
Other benefits to completing a Vet Tech Bachelor of Applied Science include
Increasing the potential for how much you can earn. Those with a Bachelor Degree earn up to 40% more on average than those with an associate degree. While average salary can vary based on where you are and what you do, overall those who've completed a higher degree in any track tend to have more competitive wages.

Having a deeper understanding of the field and your patients. In the bachelor's program, you'll dive into more advanced information about our animal friends, learning how to identify and treat rare diseases, and gaining a better understanding of how humans and animals bond.

Taking on a leadership role in your veterinary practice. Along with in-depth veterinary medicine courses, you'll cover leadership and practice management courses that can help you take the first step toward being a boss in your clinic.
Get started on the path toward furthering your career in a field you love
If you've been waiting to get started on your veterinary technician education because you've heard about the Bachelor of Applied Science coming to Penn Foster, now's the perfect time to make the first move to enroll into the Penn Foster Veterinary Technology Associate Degree Program. Our Vet Tech A.S. will help you begin your education in the field, earn your general education credits, and help you prepare for the VTNE to become a certified vet tech. Once you're an associate degree graduation, you can transfer your credits right into the Veterinary Technician Bachelor of Applied Science Degree.
If you've already finished an AVMA-accredited vet tech associate degree, you can take the next step today by speaking with an Admissions Specialist at 1.888.427.6500 to start the process!