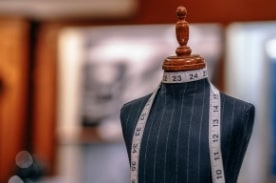 If you're interested in pursuing a creative career, want to start a side hustle, or even just learn a fun hobby, learning more about dressmaking and design can help! Through online dressmaking classes, you'll learn the basics of sewing, creating patterns, and designing amazing clothes for men, women, and children. Here are five reasons you should learn more about dressmaking and design today.
1. Making your own clothes could help you save money
You're creative and have a sharp sense of style. You know what you like, but sometimes, finding those things for a reasonable price seems nearly impossible. When you've got bills to pay and groceries to buy, purchasing a new outfit just isn't in the budget. While fast fashion (clothing made quickly and cheaply) is easier on the budget, it doesn't last nearly as long as well-made pieces. In the long run, you can end up spending more to replace the fast fashion items that wear and tear quickly. Staying in style and on-trend for cheap doesn't have to be a dream when you know how to create DIY fashion from home.
Learning how to sew, create clothing patterns, and design your own pieces can do more for you than just help you stay ahead of the fashion curve with the latest looks and save money on pricey designer clothing. You could even take the first steps toward starting a side hustle with your new skills!
2. Basic sewing skills are practical
Knowing how to sew isn't a skill reserved for great-grandmothers. Sewing is an activity that has, in the past, been seen as something too old school to be cool. Why learn to sew when you can buy fast fashion at any store or, even easier, from an online retailer that delivers within a few business days?
Besides allowing your particular brand of creativity shine through custom-made clothing, sewing is actually a practical and useful skill for anyone to pick up. Think about it. When a button falls off of a shirt you wanted to wear to a big interview coming up, what do you do? You might be forced to find another suitable button-up to wear to that meeting, or even buy a new one so you can be sure you're dressed well. If you know even the basics of sewing, though, that's not something you have to worry about. Pull out a needle and thread, and you can stitch that button back in place in no time!
Penn Foster's online Dressmaking and Design course starts you off with the basics, building a foundational knowledge of hand stitching before moving on to using what most designers and DIYers rely on: the sewing machine. Even if you don't plan on becoming the next big fashion designer, being able to sew basic stitches and use a sewing machine can help you save money by repairing small tears or split seams instead of throwing the clothing away and purchasing new.
3. Making and mending your own clothes is good for the environment
Besides saving you money, knowing how to sew, mend, and create your own clothing can have a positive impact on the environment. Fast fashion, an approach to the design, creation, and marketing of clothing fashions that emphasizes making fashion trends quickly and cheaply, has been cited as one of the major causes of pollution globally. By making clothing that lasts longer, and having the skills to mend and tailor clothing you've bought, you can make a positive impact on the world we live in, one stitch at a time!
4. Make extra money on the side
You've got your full-time job you're happy with, but could always use some extra income, especially around birthdays and holidays. Who doesn't? With more and more people starting a side hustle online, it doesn't seem like a bad idea to start your own. If they can do it, why can't you?
Being able to create custom dress and clothing patterns, do basic embroidery, or even designing and making custom clothing could be a fun way to make extra money. With sites like Etsy and Amazon Homemade promoting custom-made products, it's easier than ever to start doing it yourself.
Not interested in making clothes for others, but still want a side hustle? Being able to tailor clothing for clients could bring in some extra money! Buying clothes in a store or from an online retailer can always be a tricky game. With retailers sizing clothing to fit the majority of people, things you purchase often don't have the perfect fit that custom fitted clothing does. With tailoring skills, you can take in gowns for proms and weddings, custom fit suits and slacks, and more.
With courses in drafting garment designs from basic patterns and classes dedicated to learning to embroider, you can pick up new skills that could allow you to make the first move toward setting up your own online shop.
5. Bring your fashion ideas to life
Whether you hope to eventually make a living by designing and tailoring fashion for men and women, or you just want to stand out from the crowd, learning how to make your own clothes can help you make trends instead of just follow them. You can design, make, and wear clothing that you know for a fact no one else has, making you stand out in a crowd and boost your self-confidence.
If you're more interested in ensuring your clothes fit right and look good over being a fashion plate, learning to alter and fit your current wardrobe can make you stand taller. Well-fitting clothing is hard to find when you buy off the rack and — bonus — a great fit can make you look and feel more confident, which can be a plus in a job interview or at work!
Learn to sew and design with Penn Foster
Whether you want to gain the skills that can help you start a creative career or you've decided to take on dressmaking as a hobby, Penn Foster's online Dressmaking and Design Career Diploma Program allows you to learn foundational skills from wherever you are, whenever you want. Learn more about the program and how you can get started, talk to an Admissions Specialist today at 1.888.427.6500.