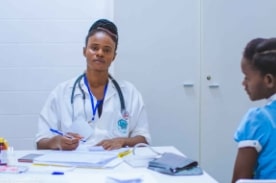 Why become a certified medical assistant.
Helping others in a healthcare setting sounds like your dream job. Whether that means measuring vital signs, setting up appointments, or updating patient medical records, playing a vital role in making sure someone gets the care they need is rewarding work. But what skills do you need to learn, and what should you have on your resume to get your foot in the door as a medical assistant? And is being certified or registered in the field necessary to find a good job? Here's what you need to know.
What does it mean to be a certified medical assistant?
Unlike many healthcare professions, you can become a medical assistant without pursuing certification or licensing in most states. However, earning certification in the field can help you be more competitive when applying to open jobs. Employers may also give preference to applicants who have certification over those that don't, even if it isn't yet a requirement to work as a medical assistant.
Certification involves more than completing a certificate, diploma, or college-level training program, although that's often the first step. To become certified in almost any industry, a comprehensive, official exam is involved. The exam, usually administered in a testing center, covers the knowledge that is deemed important to doing the job well. After passing the test, you are officially certified and can include that credential on your resume.
Earning certification as a medical assistant means that you have the knowledge and skills to be an effective member of a healthcare team and that your skills are recognized by a national certifying body that upholds standards in the field. The certifying body, in this case, is the American Association of Medical Assistants (AAMA), which administers the Certified Medical Assistant Exam.
What does it mean to be a registered medical assistant?
Like with certification, registering as a medical assistant isn't necessarily a requirement to work in the field in most states. Also like certification, becoming a registered member of the field can be beneficial when you're seeking a position in a competitive industry.
Becoming a registered medical assistant is a way for employers to be assured that you have the skills and know-how to be a strong employee. Having the credential also shows a level of commitment to growing your knowledge in the field that employers appreciate.
The certifying body for the Registered Medical Assistant (RMA) credential is American Medical Technologists (AMT). Passing an exam given in at an official testing center earns you the RMA designation, which can be used to boost your resume.
What's the difference between a registered and a certified medical assistant?
The biggest difference between being a registered medical assistant and a certified medical assistant is the certifying body that gives the exam. For CMA's, that's the American Association of Medical Assistants. For RMA's, you'd take the test provided by the American Medical Technologists.
Another difference is how often you have to recertify or re-register to maintain your credential. certified medical assistants need to recertify every 60 months – that's 5 years – while registered medical assistants recertify every 3 years.
What are the steps to take to become a certified medical assistant?
Becoming a CMA isn't just taking and passing a long exam – it's a process that involves a few important steps.
Step One: Graduate from a medical assistant training program.
Certification in the field requires training and education. From learning foundational knowledge like medical terminology and body systems to tackling electronic medical records and more, a strong understanding of the different skills you'll be required to use on the job is important to quality patient care. Most programs have a clinical requirement toward the end of your studies to allow you the opportunity to apply your skills in a real-world setting.
Accredited, online medical assistant training programs like Penn Foster's new career diploma program and the associate's degree allow you to complete your studies on your schedule. Following the successful completion of your classes, you'll have a clinical lab that gives you the information you need to secure an externship at a clinic or doctor's office in your area.
Step Two: Register and study for the exam you want to take.
While not all states require licensing or examinations in order for medical assistants to be eligible to practice, they may have other requirements to meet before you can work in the field. Make sure you check on your home state's regulations before registering for and taking a certification exam.
When you complete your medical assistant program with Penn Foster, you can prepare to sit for a number of industry certification exams such as
American Medical Technologists (AMT) Registered Medical Assistant (RMA) Certification

The Certified Clinical Medical Assistant (CCMA) certification offered by the National Healthcareer Association (NHA)

The National Certified Medical Assistant (NCMA) certification offered by the National Center for Competency Testing (NCCT)

The Clinical Medical Assistant Certification (CMAC) offered by the American Medical Certification Association (AMCA)
Graduates of our online medical assistant diploma program will receive certification prep materials for the NHA CCMA exam, along with a voucher to cover the cost of the test.
Prepare to take the next step toward a rewarding career on your schedule.
You don't have to push your goals of starting a rewarding career you enjoy to the side. With Penn Foster's flexible, online medical assistant training, you can work toward preparing to become a certified medical assistant from home, when it works for you. Find out more about the program and how to get started by chatting with an Admissions Specialist at 1-888-427-6500 today!