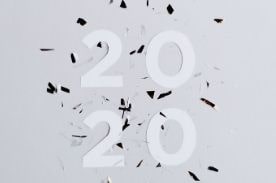 2020 has been a year unlike any other. While the challenges we've faced with the pandemic, shutdowns, and social distancing can feel overwhelming, it's important to remember that some good things have happened this year, too! As we wrap up this strange year, we're looking back at all the things we've accomplished together and getting ready for what comes next in 2021.
Here are some highlights from this year.
We added new programs so learners can begin to prepare for in-demand roles
If you haven't found a program that's right for you yet or are looking for the next course to add to your resume, we've got you! In 2020, Penn Foster added six brand new programs. These include
And updated some current ones
As an online school, keeping our programs cutting-edge is essential. This year, we made some big updates to programs like
The Veterinary Technician Degree program. Through new interactive lessons and animations, you can get an in-depth view on key topics and improve how you retain the information you study!
The HVACR program. Learning a hands-on job online seems difficult, but it absolutely doesn't have to be. With new interactive simulations and how-to videos, you can get a visual understanding of how things work in real life.
Microsoft® Office.® Learning Microsoft® Office® can be an essential skill in many roles and industries. With updated 2019 software, you can prepare to excel.
Launched a brand-new job board
Finding a job in your new career field can be easier than ever with our new job board. Launched this year, employers looking for Penn Foster students and grads from across the country post job listings you can review and apply for! Find your career match today.
Earned gold status as a military friendly school
We are thankful for those who serve our country and their spouses! In 2020, we gained gold status as a military friendly school, meaning our programs and dedication to our military students are top notch. Find out more about what criteria needs to be met to earn this status here.
We developed a free COVID testing training course
COVID-19 made a big impact on the world, and so we partnered with South New Hampshire University and Guild Education to offer a free, 30-minute COVID testing and safety course. The course, geared to train frontline healthcare workers – but available to anyone – covered essential tips for safety, testing, and sanitation.
Our Pharmacy Technician Professional Career Diploma earned ASHP/ACPE accreditation
Our Pharmacy Technician Professional program is modeled against ASHP standards and requirements and has received American Society of Health-System Pharmacists (ASHP)/Accreditation Council for Pharmacy Education (ACPE) accreditation. This accreditation is the national standard for pharmacy technician training programs.
And it made the list for best pharmacy tech schools
Little Pink Book recognized our Pharmacy Technician Professional program as one of the best nationwide! Read more here.
We celebrated YOU
We announced our 2020 Outstanding Graduate of the Year. Each year, we're overwhelmed with how much you accomplish and achieve. It's always hard to narrow down the list to one winner, but in 2020 we chose Keyana Beamon, a graduate of our Veterinary Technician Associate Degree. Learn more about her here!
Celebrated the winner of our 2020 Helping Hands Award. Once again, we were overwhelmed by all the good work each and every one of you does in your community. This year, from over 300 applicants, we chose Kristina Stranahan, who is volunteering as an EMT to quickly get sick people the help they need.
Made our first digital yearbook. Our favorite day of the year is normally graduation day, where we can meet you and congratulate you in person. However, it wasn't a normal year and we had to adapt! That's where our first ever digital yearbook started. Check out the College & Career School yearbook here and the High School yearbook here.
Celebrated the 1st birthday of our student-run Ambassador newsletter
Our Student Ambassadors are some of the best of the best. They're dedicated to connecting and helping their fellow students. One way they did that was through starting our first Community Newsletter. Completely run by the Ambassadors, the newsletter covers everything from student spotlights to study tips. This year, we celebrated its first birthday and can't wait to celebrate more. Check out the newsletter on the community today!
Learned a lot during our Vet Tech Week celebrations
Each year in October, we celebrate National Veterinary Technician Week! This year was no different and we learned so much through helpful webinars. Some highlights included an interview with Penn Foster Graduate of the Year, Keyana and Banfield President, Brian Garish, and alumni spotlights, like this one.
Took a look back at our amazing graduates of the year
Since 2013, we've celebrated our outstanding graduates of the year. Check out what they're up to now on the Student Life Blog.
Stayed grateful for our amazing students & alumni
No matter what this year threw at us, we remain grateful and thankful for the amazing students and alumni we have. You're what makes us #PFProud and we can't wait to continue being there for your successes in 2021.