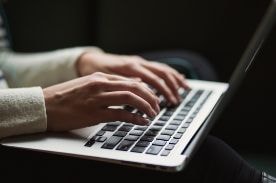 Penn Foster is a flexible online school that offers programs in high school, career school, and college. With no enrollment deadline and self-paced courses, students can start when they're ready and finish their studies on the schedule that works for them. If you're considering finishing or furthering your education but don't want to be tied down to a regular schedule that demands you to go into a classroom each week, online classes could be the perfect fit for you. Before getting started, here's everything you should know about Penn Foster.
What programs does Penn Foster have?
Penn Foster has three schools: High School, Career School, and College and offers over 100 different programs that can prepare you to take the next steps toward furthering your education or starting a new career. But which program/school is right for you?
High school programs for traditional and adult learners. Whether you're a high schooler who thinks a flexible online high school option will work better for you, or an adult learner who hasn't had the chance to finish high school, the regionally and nationally accredited diploma program allows you to finish your way. Besides a national-standard curriculum, students can choose electives that match their interests and goals. From college prep electives to career pathways, you can build a foundational knowledge that can help you take the next steps toward career or technical school, college, or an entry-level job in a specific field.

Career programs in a variety of industries. You know you want to prepare for a specific career, so a focused career training program seems like the best fit for your needs. Penn Foster Career School has programs in many fields. Popular ones includes

Healthcare. From vital behind-the-scenes roles in medical billing and coding, to hands-on work like medical assisting, there are a number of programs that can help you build the foundational skills to start an entry-level job in the field.

Skilled trades. If you like working with your hands, skilled trades programs like HVACR Technician, Plumber, Carpentry, and more can help you develop the knowledge that can be an asset when applying to entry-level jobs.

Business. Whether you want to get a promotion at work or start your own business, there's a variety of courses that can help you take the first steps forward. From Small Business Management to Starting Your Own Business, you can prepare to be a leader in someone's business or your own boss.

Two and four-year degree programs. For careers that may require the completion of a degree in order to be an eligible job applicant, an associate or bachelor's degree can help you prepare to take that next step. Whether you're interested in becoming a veterinary technician or working in the criminal justice field, there's a degree program for you!

Undergraduate certificate programs. For students pursuing careers that don't necessarily require a degree, want to get a jumpstart on college courses before moving on to a full degree program, or want to build knowledge in a specific area in a shorter time frame, online undergrad certificates can be the answer you're looking for. From preparing for the CDA credential to getting general education courses out of the way, a certificate program can be a shorter, more focused option for you.
If you're still not sure if a career program or a college program is the right fit for your goals, our Admissions Specialists are here to help you at 1-888-427-6500!
Who is Penn Foster for
Penn Foster courses and programs can be a great option for anyone looking to finish or further their education on their terms. Whether you're a traditional student looking to finish high school at home or an adult learner hoping to prepare for a new career, online classes can help you make the next move toward a future you're interested in. Penn Foster's self-paced programs can be a great fit for
Independent learners. If you learn better by taking charge yourself, online classes allow you to determine how and when you'll study and take exams.

Busy learners. If you've got a packed schedule with work and family responsibilities, going to a traditional school might not fit into your day-to-day plans. Online school, however, can be done around your schedule, whenever you have time.

Lifelong learners. If you just love to learn but don't necessarily have the need to earn a full diploma or degree, expanding your skills in a hobby or area of interest online can be the solution for you.
How to enroll in online school
Penn Foster does what's called "rolling admissions." Basically, this means that you can enroll any day or any time. It just depends on when you! Here's how to enroll when you're ready.
Enroll online. If you know exactly which program is right for you and don't have any questions about getting started, you can enroll online 24/7!

Call an Admissions Specialist. If you're not sure which program is right for you, have questions about the program you're interested in, or just want someone to walk you through getting started, call an Admissions Specialist at 1-888-427-6500.
Once you've enrolled in your program, you can dive right into your first lessons.
Why choose Penn Foster
Penn Foster's online programs are flexible, affordable, and updated regularly. With no deadlines or due dates, you can learn in the way that works best for you—from wherever you are. And with over 150 different programs, there's an option for every career or interest.